Popups are somewhat of a love-and-hate element when it comes to the eCommerce world. Users either dismiss them entirely, or they appear at the right moment with an irresistible offer that nudges them towards the 'Add to Cart' button.
Utilizing popups in a proper manner can provide your Divi eCommerce website with the sales boost that it needs. In fact, a well-timed popup helps potential customers make the right choice at the right time, growing your eCommerce business in the process.
This is why in today's blog post, we will share some critical points and tactics regarding popups on your Divi website, so you can easily apply them on your online store and boost your conversions.
Table of Contents
FAQs About Popups and eCommerce
Can I use popups with Divi for my eCommerce website?
Yes, you can use popups effectively with Divi for your eCommerce website. Divi offers a built-in visual builder and various options to create and customize popups that can enhance your eCommerce strategy.
How can popups benefit my eCommerce website?
Popups can provide several benefits for your eCommerce website, such as:
Lead Generation: Use popups to capture email addresses and build your subscriber list for email marketing campaigns and promotions.
Promotions and Discounts: Display popups to showcase special offers, discounts, or limited-time promotions, encouraging visitors to make purchases.
Upselling and Cross-selling: Use popups to suggest related products or offer additional options to customers, thereby increasing average order value.
Abandoned Cart Recovery: Employ exit intent popups to capture potential customers who are about to leave their shopping carts, offering incentives or reminding them to complete their purchase.
Feedback and Surveys: Utilize popups to collect customer feedback, conduct surveys, or gather valuable insights about your products and services.
What Are Popups and How do They Work?
In simple terms, a popup is a small modal box that is triggered to appear on the page when a user is browsing it, displaying a targeted message that is intended for that user. In most cases, popups are used to promote products and generate leads. Here's an example of an eCommerce popup:
Using an eCommerce popup for your Divi website can either interfere or enrich the user experience.
The most important thing for a popup is to be subtle, but interactive enough to spark a reaction from the user, whether that's deciding to act on the CTA (Call-to-Action), or exit.
‍In general, there are four key features that any winning eCommerce popup must have:
Context – The popup must relate to your web content and your brand.
‍Copy – The copy must be actionable and attractive to the users.
‍Design – An appealing design brings target customers closer to purchasing.
Offer – A great offer is the most important element of the popup.
Moreover, there are five different types of popups that you can implement on your Divi eCommerce website:
On-Click Pop-Ups: On-click popups appear when users click on a defined link, button, or an image on your website.
Timed Pop-Ups: After users spend a pre-defined time on your website, timed popups appear and ask them to take action.
On-Scroll Pop-Ups: After the user scrolls up or down to a particular part of the page, the popup immediately shows up.
Page Entry Pop-Ups: They appear as soon as the user opens the page, or when the page finishes loading.
Exit-Intent Pop-Ups: This popup appears to users when they intend to exit the page that they're browsing on.
Benefits of Using Popups for eCommerce
Popups can be a real game-changer for your eCommerce business, particularly if they manage to get the right message to the target customers. When executed properly, popups promote your products and provide a great user experience at the same time.
If website visitors are interested in your products or they want to sign up for your email list, a popup is one of the best means to meet their expectations.
The following are some of the other aspects that popups can do for your online store:
Keep page visitors engaged with your company
Provide means for direct company-customer interaction
Increase customers' interest in the products
Collect direct feedback from potential customers
Provide an instant call-to-action
Decrease cart abandonment rate
Increase website conversion rate
Adding Popups in Divi eCommerce Websites
The Divi Theme & Builder are one of the most powerful web design assets available. Everything is easy to use and looks great, and you can use them to create any type of website, including eCommerce, while integrating important features such as popups.
Popups can be a powerful eCommerce feature for your Divi website, providing website visitors with a reason to stick around and consider your products or services on the spot.
Now, before we talk about how to use popups for Divi eCommerce, let's review Divimode's Options for adding a popup.
Using Divi Areas Pro
The Divi Areas Pro Plugin is our power popup builder plugin that we created for Divi websites. It offers advanced features, such as a display condition that allows you to define where the popup appears. Moreover, the Divi Areas Pro plugin also offers more trigger types than other plugins:
On click
On hover
On page scroll
After delay
On inactivity
URL
Exit intent
Our popup builder plugin provides you with a dedicated tab on the settings panel of Divi to control your popup. You can see the tab after installing and activating Divi Areas Pro on your WordPress site.
>>>Get Started With Divi Areas Pro Today!<<<
BONUS: Get a LIFETIME Access to Divi Areas Pro ($199 value) with 1-time payment and priority private support and live chat from our developers for maximum results – 30-day money-back guarantee! Click here to get started →
Let's create a quick example to see how this looks in action.
First, make sure to subscribe to a Divi Areas Pro plan, and once you've signed up, activate the plugin on your Divi website.
After installing and activating Divi Areas Pro, find the" Divi Areas" section inside the Divimode item of your WordPress admin dashboard, where you can create and configure your Areas.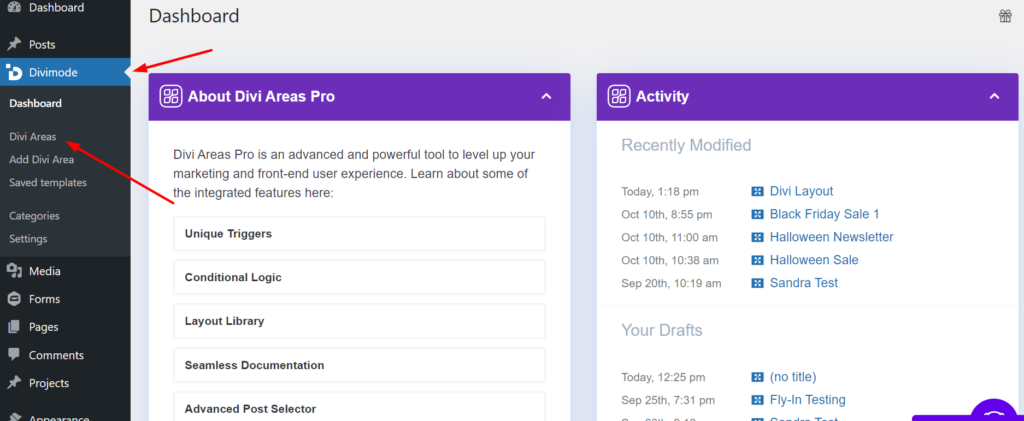 As an example, let's create a sample Popup that can be displayed for all users when they're on your shopping or product pages.
Create a new Divi Area.
Set the title to "eCommerce Popup" and Area Type to "Popup"
Scroll to the "Page Rules" section and enable "Page Limitation", which will bring up the page selector where you can choose which pages you want to exclude from the popup. Choose your preferences carefully.
Next, open the "Trigger" tab to configure a new timed trigger, and click on the '+' icon to configure a new trigger. In the trigger editor, choose the type " After delay" and set the delay to the preferred number of seconds, then save your settings.
Open the "Behavior" tab to configure the keep-closed behavior. Scroll to the bottom and open the section " Keep Closed", then enable the flag " Keep Area Closed" and enter a close delay.
Add some content to the Popup Area and publish it.
As the final step, test the Popup by visiting the page you configured, and whether the popup appears according to the trigger settings.
Or, you can create a popup that can help you collect email addresses of potential customers interested in more discounts.
Next, on your WordPress admin dashboard, navigate to the '+' button and choose 'Divi Areas'.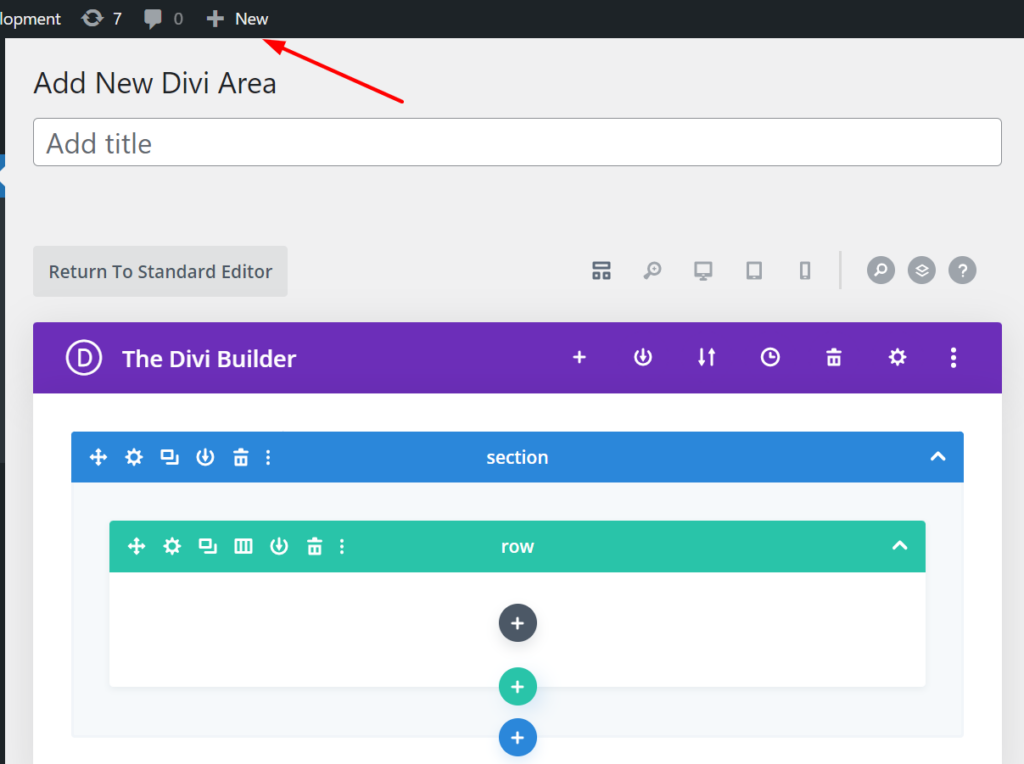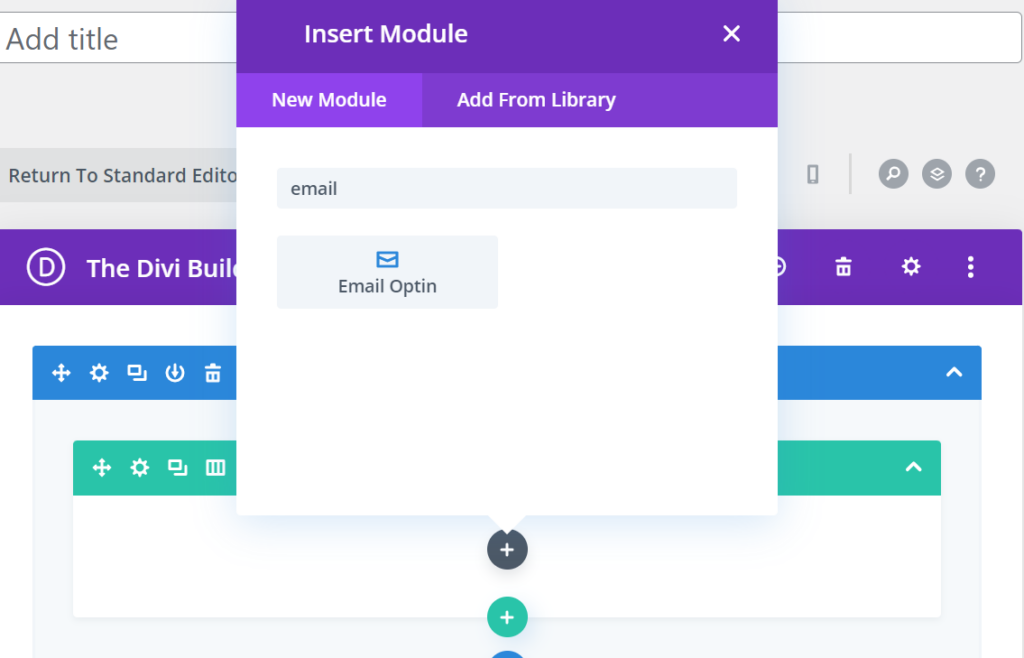 Within the area, insert an email opt-in and customize the title, texts, colors, as well as your preferred design to match with the rest of the page.
Scroll down to the Divi Area settings and choose the 'Popup' layout option to proceed further. Click on 'Save' afterwards.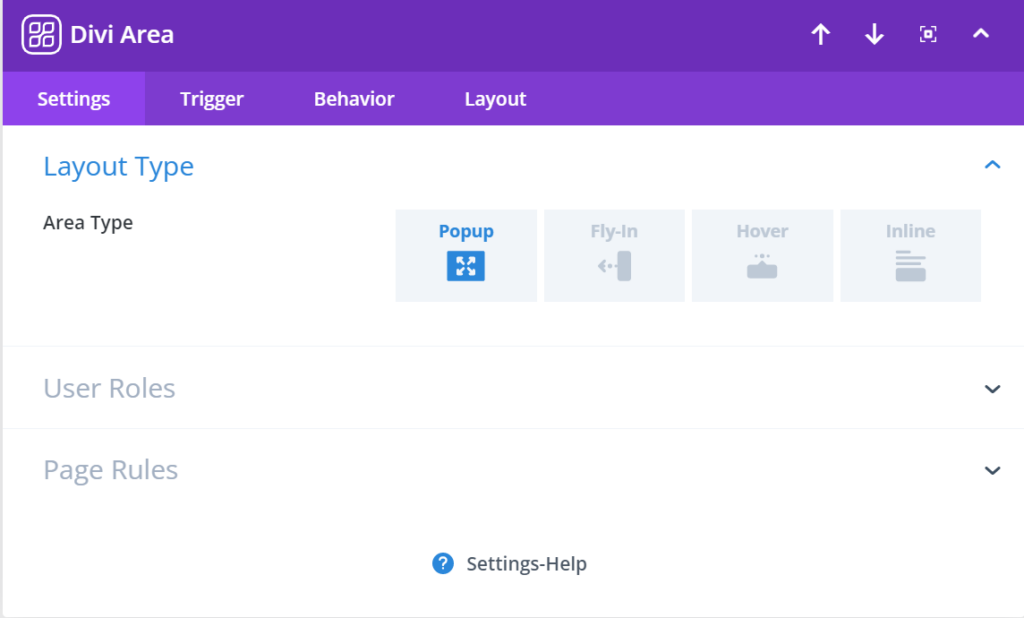 Afterwards, you need to define the popup trigger. Again, navigate to the Area settings and click on the Trigger tab. Here, you can choose to define a trigger from the plethora of Areas Pro options.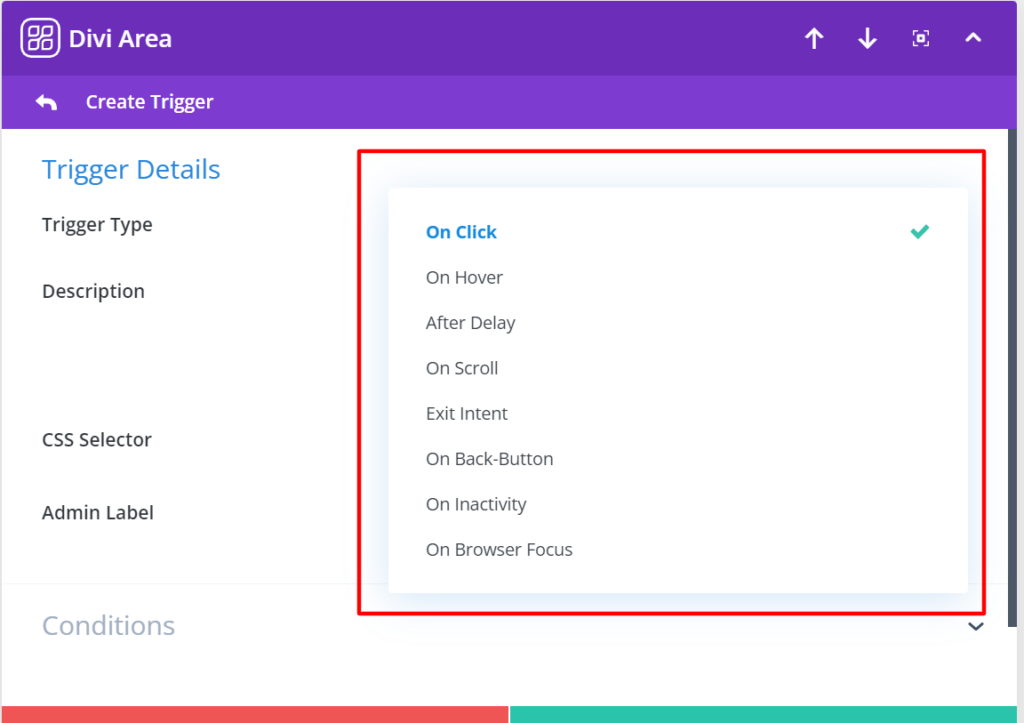 It's as easy as it looks. Save your changes and make sure to test your popup area first before you customize the style, triggers and conditions again.
Use Popups for Divi
Installed on over 80,000 websites, and counting, Popups for Divi is another Divi plugin that we are taking great pride in. The plugin is easy-to-use, and you can create different popups quickly for your Divi website.
If you have not used Popups for Divi before, please access your wp-admin and open the 'Add Plugin' page. Next, search for 'Popups for Divi', then install and activate the plugin afterwards.
After you activate the plugin, go to your dedicated page with the front-end builder, and in the desired section where you want to insert the popup, open the "Popup" tab, enable the "This is a Popup" flag, and enter the desired value (ID) of the popup, for instance, "contact", and save.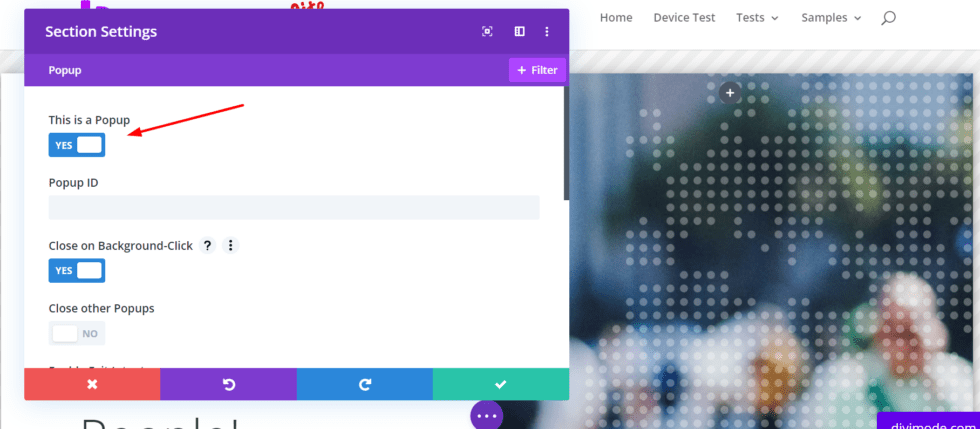 Now, you will need to create a trigger that will make the popup visible. For example, let's say that you want the popup to be triggered with the click of a certain button.
On your Visual Builder, go to the top and click on the "Contact" button settings, where you will set your custom link.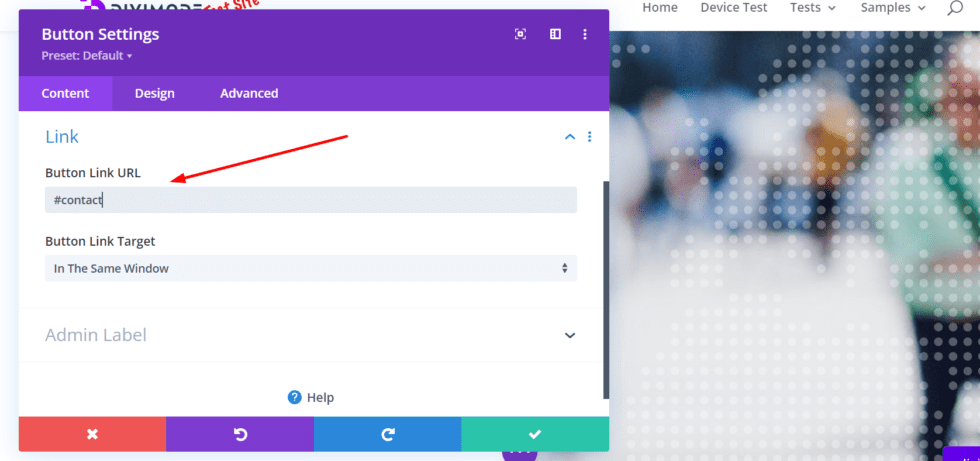 And voilà, now you have your first popup created with our Popups for Divi plugin!
For even more steps, customization options, and details, we invite you to sign up for our FREE 6-day email course that will walk you through each aspect of the plugin – Take the Course TODAY!
Best Strategies to Use Popups for Divi eCommerce Websites
So far, we've established how important popups are for eCommerce websites, and to make them work, you need to follow industry best practices that turn popups into conversion rate magic.
Choose The Best Timing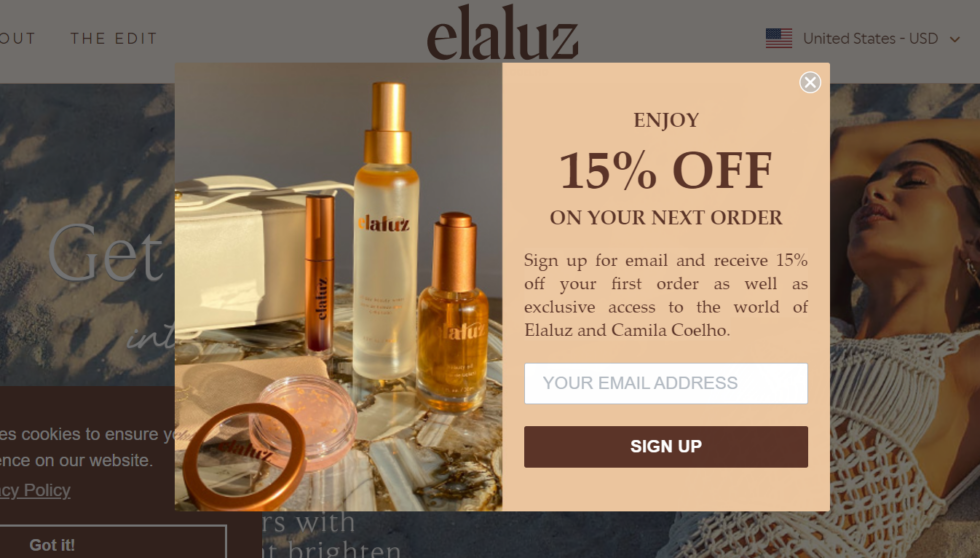 Being at the right time and at the right place is everything, and it is also applicable to popups as well.
Because timing is critical to how target customers respond to the popup, you should trigger the popup neither too early, nor neither too late.
A popup that appears too early can be rather annoying. But, delaying it a for a bit longer is the right zone of timing.
‍
Always Offer a Great Deal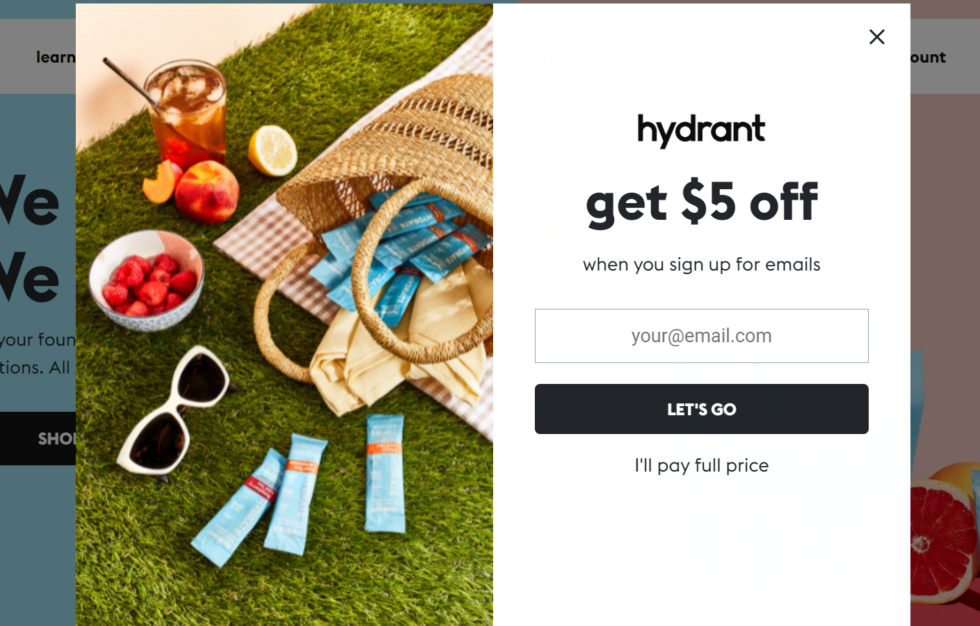 Speaking of providing good deals for potential customers, it's no secret that everyone wants a good offer, whether that's a discount, free shipping, or a bundle available only for a brief period of time.
For example, for your online store, you can offer a discount on a group of products that brings you a higher profit margin, or you can create personalized deals for visitors that browse certain pages or arrive from various traffic sources.
Create a Sense of Urgency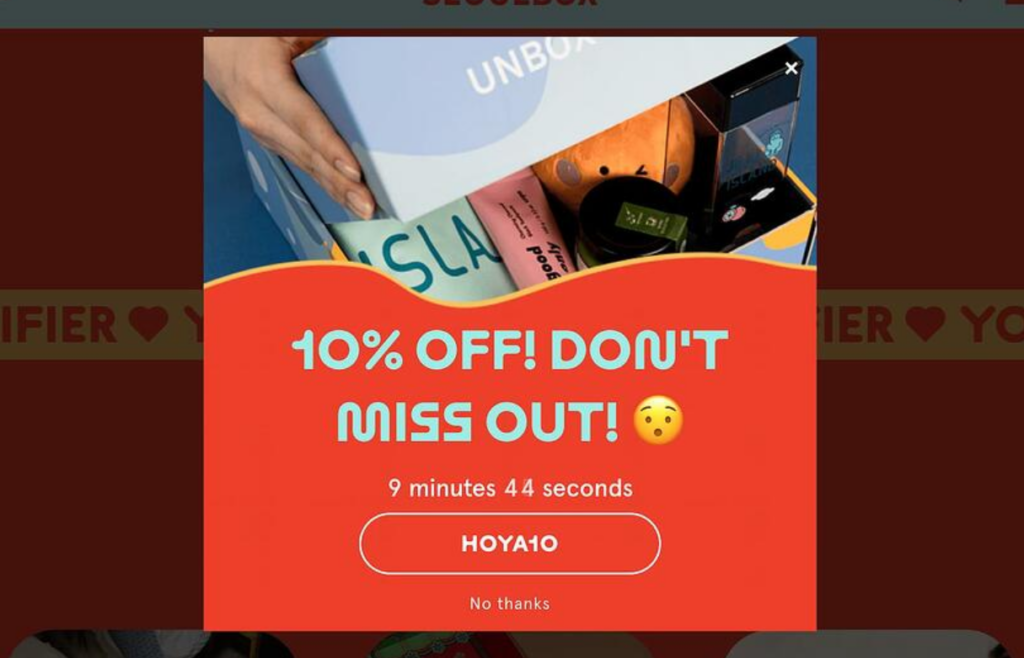 ‍Adding time-constraints and urgency is one of the oldest 'tricks' in the sales book that is used even tens of years before popups and the Internet were invented. It's still effective today, and you can use it for the popups in your Divi eCommerce store in order to boost sales.
Including a compelling and time-sensitive offer to your popups can motivate potential customers to act quickly!
‍
Wrapping Up
The eCommerce industry is increasingly more competitive with each day and given the fact that getting targeted traffic to your Divi eCommerce website is getting harder, you shouldn't underestimate the power of popups as an eCommerce asset.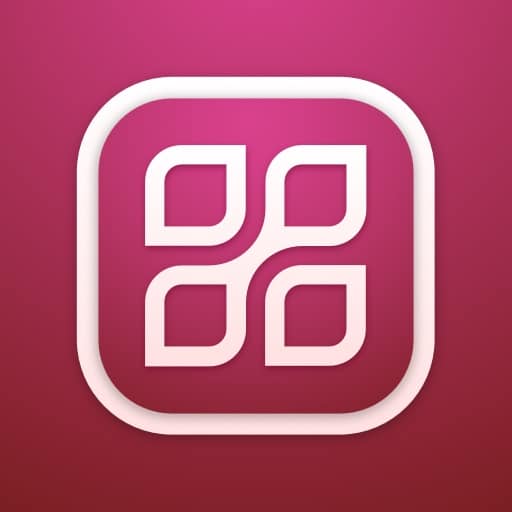 Try Divi Areas Pro today
Sounds interesting? Learn more about Divi Areas Pro and download your copy now!
Many pre-designed layouts. Automated triggers. No coding.

Click here for more details