Have you been contemplating using popups for your Divi website? Do you think about the risks and rewards of using a popup?
We understand you fully! In fact, being familiar with the power of popup builders and how they can turn things around for any website's conversion rate for the better, we know exactly what risks can be involved in using a popup marketing strategy.
However, popups can be extremely powerful, particularly if you use the right types of popups that can bring better results for your business. In fact, SumoMe found that pop-ups' average conversion rate can reach up to 3.1%, which is amazing if you consider the potential revenue opportunities.
Without further ado, this article will focus on the five types of popups you must have on your Divi website, discussing the benefits of using each one. Let's begin!
Table of Contents
Why You Need to Use Popups on Your Divi Website?
Before we outline the most important types of popups you can use on your Divi website, let's discuss the underlying reasons why you need to use popups in the first place.
Picture this: you've spent countless hours designing and creating a stunning website, carefully selecting the perfect color palette, crafting the most engaging content, and optimizing it for search engines.
You're confident that your website is the epitome of perfection, but something's still missing – user engagement. You need a way to capture your visitors' attention and encourage them to take action. Enter: popups.
Despite their somewhat controversial reputation, popups remain an incredibly effective tool for engaging website visitors and increasing conversions.
So, if you're looking to take your website to the next level and boost engagement, read on to find out which popups to use on your Divi website.
The Most Common Popup Variations
Before we discuss the more specific types of popups that your Divi website must include, let's talk a bit about the general types of popups that exist on the web.
Popups are the most common lead generation tactic used on high-converting websites. They either appear as an overlay or a smaller lightbox.
Perhaps the biggest benefit of using popups is their power to turn page visitors into leads or, even better, into clients. Popups reduce the conversion time because they create a sense of urgency for the potential customer to react immediately to the message or CTA.
Think about it – you could spend thousands of dollars on advertising and bringing more cold leads to your pages, and that is not a guarantee that they'll become immediate customers. However, popups validate a tangible interest in your offer that you can nurture later, and all of that practically for free.
Moreover, collecting warm leads and email addresses allows you to operate with potential clients on a much more personal level, as opposed to the noisy environment that Facebook or YouTube provide.
Now, depending on your marketing approach and the pages that you want to display popups on, the following are the most common types of popups and their triggers:
On-page load: Popups are triggered after a specified time of page loading.
On bounce: Popups used when the visitor is about to leave the page.
On scroll: Popups that appear when visitors have scrolled to a particular part of the page.
On click: Popups that appear after the users have clicked on the call-to-action.
Types of Must-Have Popups
Now, let's move on to the most important popups that you need to use on your Divi website. Keep in mind that you don't have to use all of the popups that we're about to mention.
You can either combine them, use only one type of popup, or even only consider implementing them into your strategy. Let's start!
1. Cart Abandonment Popup
Setting up an online store is easy. However, it's common knowledge that most ecommerce businesses struggle when it comes to sales, particularly cart abandonment. Indeed, given that the average cart abandonment rate across online stores is 70%, you wonder how you could make your ecommerce business profitable at all.
Luckily, this is where popups step into the rescue! Popups have the power to reduce abandonment rate by keeping visitors ready to purchase and on the cart page before they try to change their mind and leave.
For example, let's look at the following popup by Scarlettos.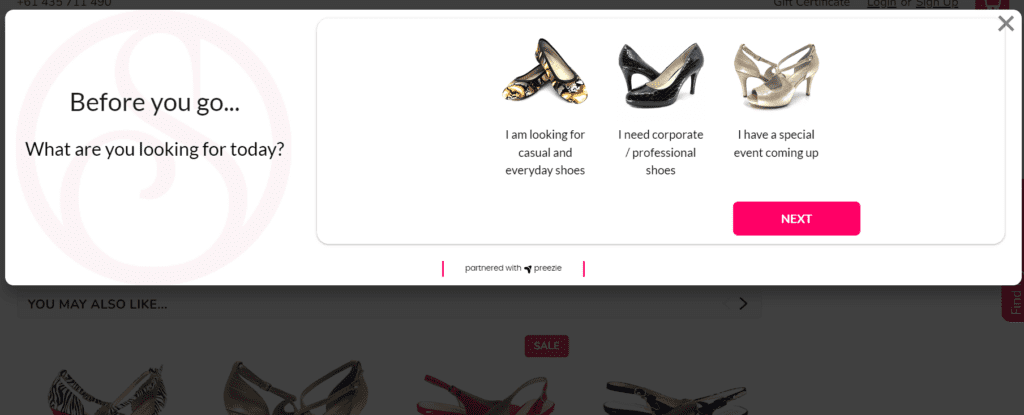 Sometimes, customers are not sure what they're looking for. Not to worry, a quick popup could help them out in a big way and decide which product to purchase.
There are lots of customers that can make a last-minute decision, and including a cart abandonment popup into your marketing line-up will make sure that site visitors don't leave empty handed.
2. On-Click Popups
Clickable popups work by activating a call-to-action or popup that leads to a landing page by making a designated click to a button, image, or a phrase. They're the least interruptive popup of all, due to the fact that they work as a result of the visitor's action.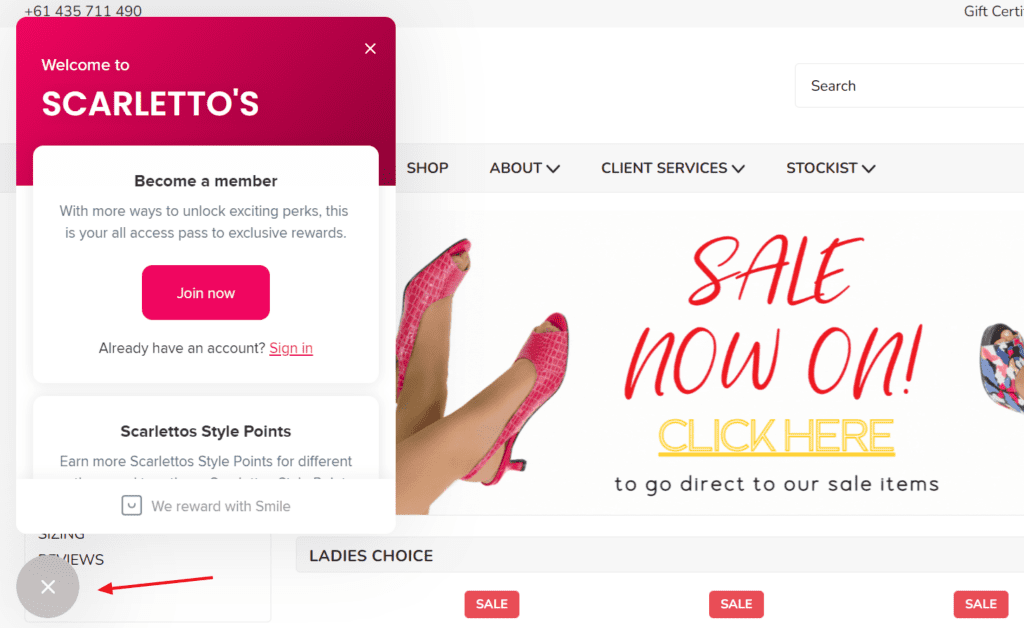 Sure, traditional popups on triggers might work, but clickable popups are result of users' willingness to proceed the user journey forward, which is excellent for growing your email list, or boosting sales.
3. Timed Popups
Timed popups appear on a specific page after the visitor stayed there for a specific amount of time.
This is a powerful popup since it assumes that users are interested in your offer as they continue to browse the page that they've landed on.
If someone is already browsing for more than few minutes, a timely popup will help them absorb the value proposition better and subscribe for your product.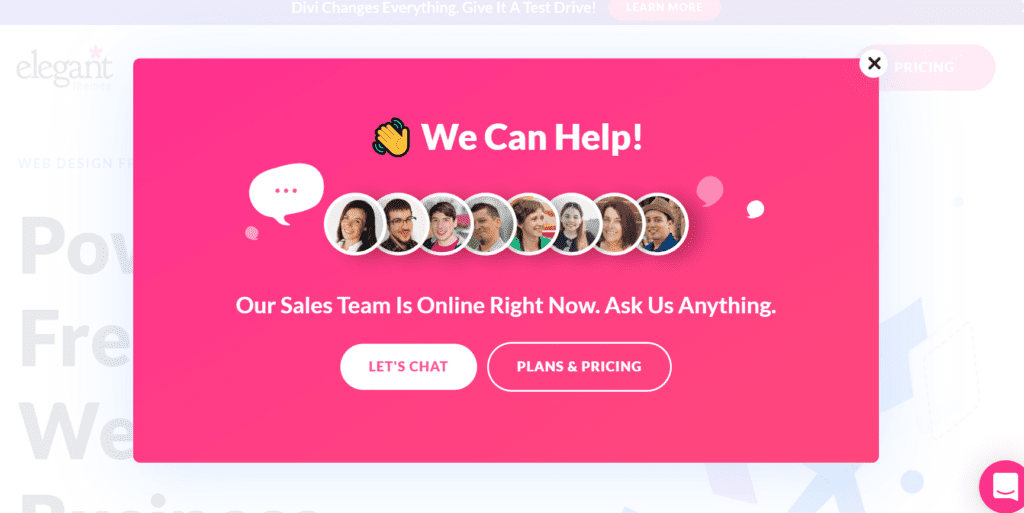 This popup appears on the Elegant Themes website when visitors browse for longer time, assuming they have more questions and need further answers from the team.
Font and the colors are friendly and inviting to the users, and the inclusion of the support team faces adds more to the benefits of directly chatting with them.
4. Sales-Promo Popups
Popups are a brilliant method for promoting sales and seasonal offers. In essence, they let your customers know that you have an ongoing sale, and you want to provide the best possible deal to them.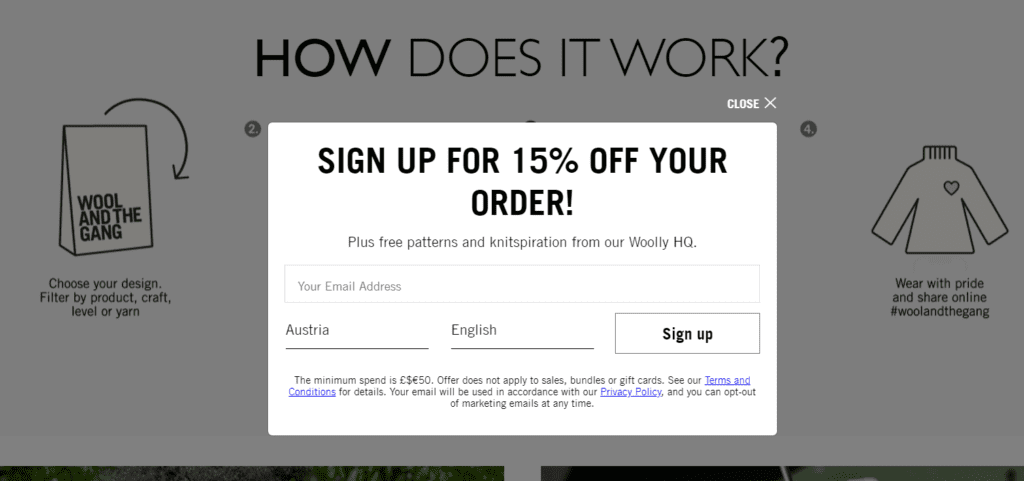 Whatever discount you provide at the moment, a popup can help you create a sense of urgency that convinces the visitors to purchase. When done right, these popups can attract more customers and subscribers to your list, and directly influence your bottom line for the better.
5. On-Scroll Popup
In most cases, an on-scroll popup appears after the page visitor reaches a certain point of a specific page. These types of popups work because they can help you collect qualified leads that have been ready to become your customers by spending a significant amount of time on your page, scrolling all the way down near the important CTA.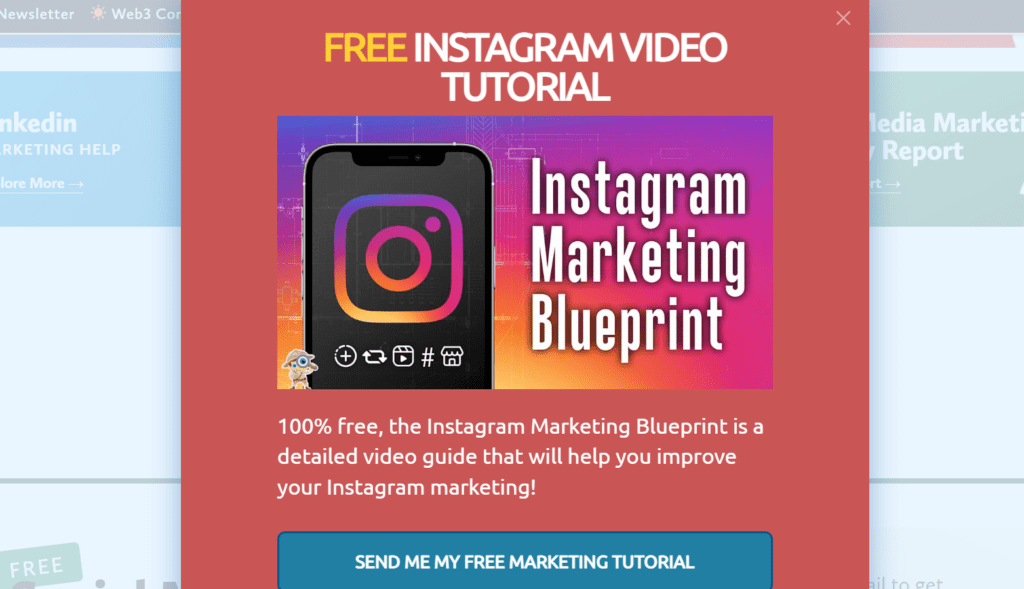 In the example above, Social Media Examiner shows the page visitors a popup that appears after scrolling all the way down to the social media resources page.
Everything about this popup looks convincing and familiar to their target users, and it's an excellent way for them to continue learning.
How Can We Help?
As the creators of one of the most powerful Divi popup plugins with 80,000+ installations – Popups for Divi, we're proud to say that we stand behind the ultimate solution for transforming every Divi section into a conversion-rate module or popup – Divi Areas Pro.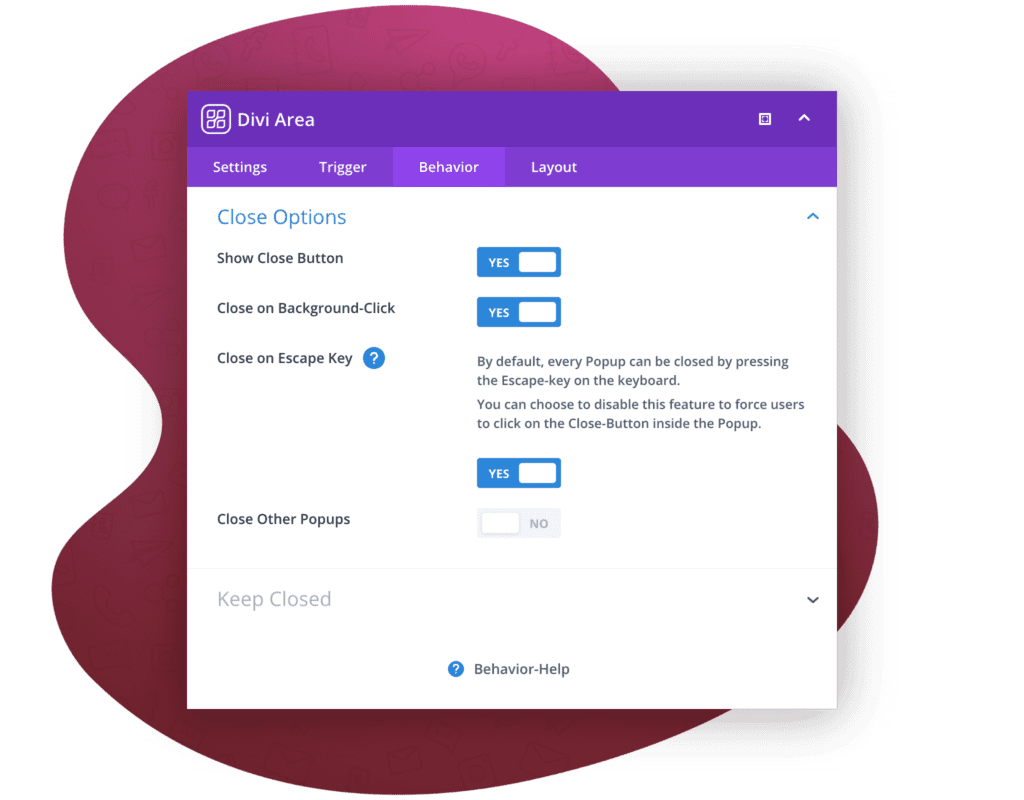 What we offer is much more than just a popup solution for your Divi website. It's an all-around tool for website owners to grow their email lists and improve their conversion rates.
With Divi Areas Pro, you can build and customize campaigns with popups, fly-ins, hovers, mega menus, and conditional inline content, even if you're a novice Divi user.
Some of the main benefits of using Divi Areas Pro, which make the plugin stand out from the rest in the marketplace are:
Content Interactivity: Go beyond sections and rows. With Popups, Tooltips, Fly-ins, and dynamic Inline Areas, you can create truly interactive content, as never before!
Content Conditionality: Whether you want to display a Popup on specific pages or show a contact form only to logged-in users: Display Conditions are part of every Divi Area.
Custom Triggers: You can fine-tune the trigger of every Area, whether you like to show it after a few seconds, when scrolling down, on exit-intent or when hovering a particular element, or even create complete custom triggers in JavaScript.
With so many beneficial features for your popups and campaigns, you can create individual and global popups for your pages, define when and where each popup gets displayed, and establish relevant email marketing campaigns.
For a further breakdown of Divi Area Pro's features and pricing, we invite you to read our detailed blog post: Divi Areas Pro: Features Overview & Benefits.
Ready to join DiviMode and create the first popup for your email marketing campaign?
Get Started with DiviMode Today!
BONUS: Get a LIFETIME Access to Divi Areas Pro ($199 value) with 1-time payment and priority private support and live chat from our developers for maximum results – 30-day money-back guarantee! Click here to get started →
Over to You
We hope that the types of popups mentioned above have already inspired you to work towards creating high-converting popup marketing campaigns for your Divi website. When used properly, popups can help you grow your business and boost your ROI indefinitely.
Don't forget, if you want to start growing your website with popups, both of our plugins make this simple for you! Click here to get started →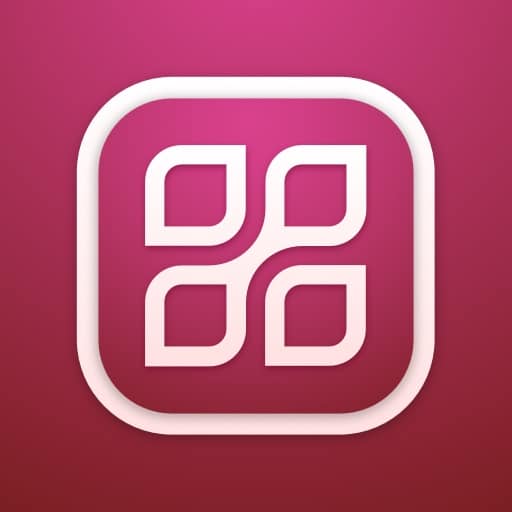 Try Divi Areas Pro today
Sounds interesting? Learn more about Divi Areas Pro and download your copy now!
Many pre-designed layouts. Automated triggers. No coding.

Click here for more details