Sooner or later, every Divi website owner faces the need to add a Popup to their website. While Divi offers numerous ways to design and develop beautiful websites, no matter how powerful the theme is, it still lacks the ability to create popups using the Divi Builder.
It is a problem that lots of web designers and developers face. The good news is that companies and developers have spent years in crafting powerful solutions to help people with their Divi Popup problem. 
Thus, without further ado, in this article, we will discuss the different popup plugins that easily integrate into Divi.
Some words from the Author
I have used all plugins in this list on real-world websites. This is not a summary of the plugins landing page but a real review based on my experience I've built in countless projects I completed for myself or my clients.
Please note that I'm the author of two plugins on this page – namely Popups for Divi and Divi Areas Pro. I did my best to write a thorough and objective review of the "competing" plugins: I do not want to give the impression that my work is superior, but share a detailed comparison of all products with you.
---
Affiliate notice: We spend a lot of time testing and reviewing products to help you make better decisions before buying them yourself. Even if we try to be objective in our reviews, they are still biased by our experience. However, we never write a review that is influenced by an affiliate commission! Further down on this page you will find affiliate links. If you use one of those affiliate links, we may earn a small share of the revenue, without you paying more.
---
Why Do You Need a Popup Plugin for Your Divi Website?
One of the most important conversion rate activities that any website owner needs to do is email marketing. It is one of the most effective tactics for lead generation, business growth, and getting more sales online.
However, before you can send potential customers an email message, you need to collect their email addresses, which is the primary step to successful email marketing strategy.
While email marketing service providers can allow you to create a generic lead generation form and embed it on your website, lots of them lack the design and integration features and display settings that plugins have.
This is why a popup plugin is essential for collecting email addresses through your Divi website. How do I know this? Well, I've tried and tested the best popup plugins for Divi available.
All of the plugins below can help you create stunning popups that can convert visitors to subscribers. 
Free Solutions
Bloom

Offered by Elegant Themes as an integral part of their premium subscription packages, Bloom is a premium solution that is bundled with your Divi licenses fee, and therefore, I consider this one to be a "free" plugin.
Bloom makes setting up a popup opt-in form for your Divi website effortless. It ensures that each of your popup opt-in forms are properly defined and presented in a way that brings you more subscribers to your email list.
Sure, there are plenty of other plugins that can help you collect email addresses for your lead generation efforts, but why exactly is Bloom the best for the purpose?
The answer lies in the plugin's powerful features as a free solution integrated within the Divi platform. Since the plugin is developed by experts from the Elegant Themes team, each of the features are updated according to the latest Divi needs and coding standards.
Built for marketing
Bloom comes with marketing tools baked right into its core. It tracks your Opt-in performance and notifies you which versions work best. Moreover, you can even run an A/B split test and compare two forms against each other.
Impressions
This is how your wp-admin panel looks right after activating Bloom

Bloom allows you to create more than just Popup Opt-in forms.

Choose from dozens of pre-made layouts. We think that's pretty cool!

A unique feature: You can even preview your Popup while editing it.

Choose from a list of custom trigger conditions.

The final Popup displayed on the test page.
Strengths
It's included in your Divi subscription (i.e., making it "free")

It's super-efficient and flexible when it comes to collecting email addresses

It offers an intuitive and easy to use Opt-In builder

Many professional layouts to choose from

The preview-function in the admin editor is amazing

An integrated analytics module gives you an overview of your opt-in performance

It has advanced marketing features, such as A/B testing
Weaknesses
Limited to a single use-case: Can only create Opt-In forms

It's not really a Divi extension but a stand-alone plugin (yeah, it feels like cheating!)
Price
Included in your Divi subscription. Otherwise $89/year
GPL compatible license
Popups for Divi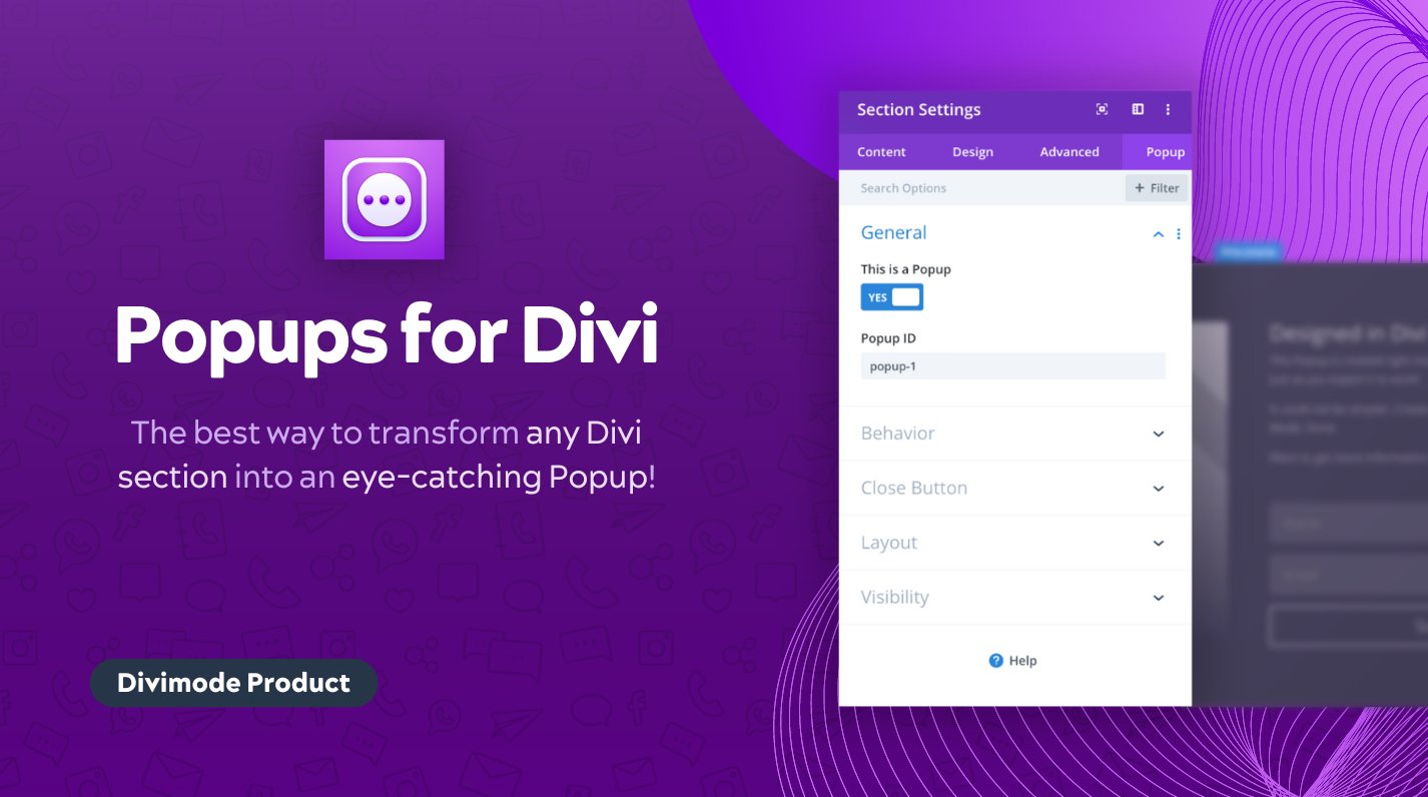 With 80K+ active downloads on Divi websites, Popups For Divi plugin is the most popular FREE plugin developed by the Divimode team, and according to industry experts, our plugin is rated as one of the best Divi popup plugins in 2022.
The Popups For Divi plugin enables you to turn any section of your Divi website into a popup, and after you activate the plugin, each section of your page will earn a 'Popup' tab in its settings.
Then, you can customize your popups with ease and choose the way the popups will be triggered. Moreover, you can also create an unlimited number of popup types, which include:
General popups: Turning a current Divi section into a Popup. When enabled, additional options become available.
Exit-intent popups: When you enable the exit intent trigger, the Popup is automatically opened before the user leaves the current webpage.
Fly-in popups: Triggering a popup that does not completely disrupt the UX.
Opt-in forms: Triggering general lead generation popups requesting subscriptions.
And more..
Popups For Divi plugin allows you to set different types of triggers based on different actions.
This can range from exit-intent popups to background clicks, and more. The great thing about this popup is the fact that the API is open to you so you can create an unlimited amount of popups with different variations.
Developer-Friendly Solution
When you add the CSS class "popup" to a section, it's automatically changed into a ... Popup, right! Also, each Popup needs a CSS ID so it can be identified and opened again later.
Popups for Divi makes opening a Popup is a straightforward process: Change the "Link" attribute of a button to the CSS ID. When you click that button (outside the Visual Builder) you'll see that Popup pop up.
Another unique feature of the Popups for Divi plugin is, that it offers a JS API that you can use for creating custom triggers, like a timed Popup or trigger it only for logged-out users, etc.
Impressions
Admin page after activating the plugin

Create a Popup by editing any Divi Section

Add a CSS ID and Class to create a Popup

I've also added a standard Divi Animation...

Trigger the new Popup by setting the button Link

Divis' loading animation works

The final Popup looks like this
Strengths
Design Popups right inside the page, no need to switch to a different Popup editor

Demo content with ready-made popups help you to understand the plugin quickly

Fully compatible with caching plugins

Developers: The plugin comes with a documented JS API

You can opt-in to a free onboarding email course
Weaknesses
You need to remember CSS class names to customize Popups

Each Popup is made of exactly 1 section (but it can have multiple rows)
Price
Available for free in the wordpress.org repository
GPL compatible license
---
Premium Solutions
Divi Overlays

Possibly the pioneer popup plugin for Divi websites, Divi Overlays was first released in January 2017 and is still a very successful popup plugin today! In my experience, it is very reliable and works great once you understand how to use all the settings.
Big plus: Animations and Scheduling
Divi Overlays allows you to choose from a big list of unique opening animations.
Another feature which sets this plugin apart is its ability to schedule Overlays - both by setting a start/end date, or by defining a weekly recurring pattern.
UI clarity?
When designing my Popups I found some options, where I could not figure out, how (or where) to use. For example there's a checkbox called "URL trigger" that did not seem to have any effect.
Also, there are multiple CSS selector values displayed.
Preview every change
In my experience, the Popup position depends on the Animation you choose. Thus, the fade-in animation positioned the Popup roughly in the center, while the "Door" or "Corner" animations positioned the Popup in the top of the window.
Also, the Popup stretches over 100% of the window width by default. You can change this by setting a custom pixel-width in the Divi Section (percentage width did glitch in the past). So, make sure to test the Popup after changing any details.
Also, note that the "close cookie" is set upon opening the Overlay. That means, your Overlay will be marked as "closed" even if the user did not actually close (or maybe read) the Overlay.
Impressions
Divi Overlays settings page

When creating a new Overlay, remember to first enable Divis' Visual Builder

Here's a sample Overlay I've imported from my Divi Library. Note: Only the Visual Builder contents were imported, no Overlay settings

When switching to preview mode, the settings are stacked below the Visual Builder

A glimpse in the Animation list - turns out it's quite impressive!

Settings for included/excluded posts and the "keep-closed" cookie

The close-button customizer

Trigger options offer a scheduling function!

Overlays can get a recurring schedule with weekly options

Overlay in action. The position seems to be determined by the animation. Animation here: "Corner"

For this screenshot, I use the Animation "Fade-In"

I could change the max-width of the Overlay, by setting the Section width to 800px. Note: A percentage-width did not work
Strengths
Battle tested track record since early 2017

Create new Overlays in the wp-admin area via a custom Post type

Use Divis' Visual Builder to design Overlays

Open Overlays with a custom animation

Automatic triggers: Timed, On Scroll, Exit-Intent

Trigger Overlays via click on a CSS selector
Weaknesses
Usage is not always clear, as fields have no description and are not always intuitive

Layout such as position and Overlay size are a bit unpredictable

Close cookie is already set upon opening an Overlay
Price
From 24 $/year, for 1 website
Divi Popup Module

This premium plugin offers a single new Divi Module that you can insert into your page content. In that module you can pick a Popup-Style, and choose between a handful of content options (from simple image to a custom Rich-Text field). That's not the most flexible extension you say? But wait, it might be just right for you!
Unbeatable licensing
First have a look at the pricing and license: Yes, it has a single license model, which is "unlimited and lifetime". That's a big advantage, especially if you are looking for those rare plugins that still offer one-time-payments.
Ease of use
Though it feels limiting to have a single Rich Text area to fill in the content, it can also be liberating. No more design choices or confusing options. So, if you want your client to manage their popups on their own, this might be your best bet!
Briefly broke with Divi 4
I'm a big fan of this plugin, as it has many good points. However, I've had one client that used this plugin for a long time (and still does) who upgraded to Divi 4. After the update they were suddenly unable to edit their Popups. The module would open but the content area was empty. It was not tragic, as it was "only" an editing issue that was solved by deleting and re-creating all Popups. But it was an annoyance that I never experienced with the other plugins.
Impressions
Remember to enter your license key after activating the plugin!

The Popup Module can be locked for certain user roles, like any other Divi module

Let's insert our first Popup Module

The module is written in the old "shortcode-mode" - it makes an Ajax request every time you change a value to refresh the preview.

Popup contents are a limited

I've decided to create a Popup with a Button-Trigger

All possible Popup triggers. That's a good list!

This is my Popup Trigger on the front end. Generated by the plugin itself

The final Popup. Layout choices are restricted to setting the width/height of the popup.

Demo 2: Trigger the Popup based on an URL param

Yes, it works just as expected
Strengths
One time payment for an unlimited license

Great choice of Popup triggers

It's very simple to use, because it's a single Divi Module

Choose from 5 pre-defined popup layouts, great for design-shy users

Option to auto-close a Popup X seconds after opening it
Weaknesses
The content is a single Rich-Text area, which makes the Module a bit inflexible

Almost no way to customize the Popup layout. Only width/height can be set

Also, the modal background cannot be customized. It always uses your Divi accent-color

It broke when updating a site to Divi 4.0
Price
$16 (one time) for unlimited websites
Divi Areas Pro

Divi Areas Pro is our premium version of Popups for Divi that provides many unique features, besides the free ones that come with Popups for Divi.
As one of the best Divi extensions on the market, Divi Areas Pro improves every part of your email marketing process from helping you get more subscribers to growing the number of qualified leads and boosting your income as a result.
Areas Pro allows you to create popups in the same way as in Popups for Divi - right inside your Divi pages by adding a CSS class, or by designing them on the admin page.
Popups and more
With Divi Areas Pro, you can build and customize campaigns with popups, fly-ins, hovers, mega menus, and conditional inline content, even if you're a novice Divi user. You can also set display triggers and rules to ensure that your target users see your marketing campaigns at the right time.
Let's look at some of the main benefits of using Divi Areas Pro, which make the plugin stand out from the rest in the marketplace:
Content Interactivity: You can go beyond sections and rows. With Popups, Tooltips, Fly-ins, and dynamic Inline Areas, you can create truly interactive content, as never before!
Content Conditionality: Whether you want to display a Popup on specific pages or show a contact form only to logged-in users: Display Conditions are part of every Divi Area.
Custom Triggers: You can fine-tune the trigger of every Area, whether you like to show it after a few seconds, when scrolling down, on exit-intent or when hovering a particular element, or even create complete custom triggers in JavaScript. It's your choice.
Top-Notch Compatibility: Divi Areas Pro supports every Module available in Divi. It works well with the Divi Builder plugin, WooCommerce, the Extra theme, and more.
Robust API: At the foundation of the plugin is a battle-tested, highly flexible API that you can integrate into your theme to take your website to the next level.
Divi Integrations: The UI looks so familiar to Divi, you (or your client) will not even notice that you installed a new plugin! No learning curve, no CSS classes to remember, no quirky, technical mumbo-jumbo.
Help and Support: Every feature in the plugin has an inline help section. When you have a question, you can get in touch via the Live Chat on our website.
Frequent Updates: There's a lot on our roadmap, and we also listen to our customers. Count on fast bug fixes, stable code, and regular improvements.
Divi Areas Pro has been regularly updated, which gradually improves each option available for customizing how your popups are displayed. Other features of the plugin include:
Create individual Popups: Turn any Divi Section into a Popups, right inside the Visual Builder. Easy as pie.
Create global Popups: Prepare advanced Popups in a new Admin Area. Then, the plugin automatically inserts the Popups on the pages that need them.
Unlimited Areas: Divi Areas Pro supports multiple Popups, Fly-Ins, and other Areas at the same time.
Fly-Ins: A Fly-In slides into the screen and stays visible without blocking the rest of the page.
Hover Areas: Create Mega-Menus or Tooltips using Hover Areas. They are always attached to a visible element on the page.
Inline Areas: Insert or replace content on any page using Inline Areas. You could add a banner at the end of every blog post or insert a message to logged-out users.
Time-based triggers: Create Popups that are opened after a certain duration. You can even set the duration to "0.0" to show a Popup instantly when a page is loaded.
Scroll-event triggers: The scroll-event is a clear engagement indicator. Want to show a newsletter subscription form when the user scrolled down 60% of the page? No problem!
Exit-Intent trigger: Displaying Popups right before a visitor leaves your page has never been easier. Enable the Exit-Intent behavior, and Divi Areas Pro will do the rest.
Back-Button trigger: Intercept the back-button click and display a Popup or Fly-In instead. It works on every device.
Click and hover triggers: The classical: Open a Popup when the user clicks a button or image. Or anything else. Specify a CSS ID or Class and sit back.
Keep Area Closed: With only two or three clicks, you can keep a Popup or Fly-In closed for the rest of the day. Then, when the user refreshes the page, they will not see the Area again for the defined duration.
Built-in Close Button or custom Close Button: There are different ways to close a Popup, like pressing the Escape-Button on your keyboard, clicking on the background overlay, or using the built-in Close Button in the top corner of the Popup.
Target posts or pages: Select individual pages or posts that should show (or not show) a Popup.
Target devices: It's easy to disable an Area on a device-type via the familiar "Desktop," "Tablet," "Mobile" options.
User Role conditions: Divi Areas Pro allows you to display Areas based on any user role. That way, you can show different content to guests than to logged in members.
URL and Referrer checks: Enable Areas when a certain URL parameter is present or when the visitor arrives from a specific referrer, like a search engine.
Powerful Inline Conditions: You have the choice to display Inline Areas "Before," "After," or "Instead Of" any other Divi Section.
Flexible Inline Locations: Either replace a section by CSS ID or Class, or by the position, like "After the 1st Section". You can also inject Inline Areas into Theme Locations, like "Header," "Main Menu," "Footer," "Post Content," or "Comment Form."
Date Conditions: Display an Area during a date-range or define a weekly schedule. Date conditions are verified with an Ajax request and are compatible with every caching plugin.
Works with Divi Theme and Divi Builder Plugin: Initially built for the Divi theme, the plugin now works with all themes that use the Divi Builder plugin.
Hooks, Filters, Debug-Mode: As a WordPress developer, you will love the way you can hook into the plugin core and customize its options and features. Turn on the Debug Mode to output un-minified code and see what the JS API is doing (and how to intercept those actions).
WooCommerce Integration: Need to display Popups inside WooCommerce product pages, the shopping cart, or during the checkout? It's easy with Divi Areas Pro.
JS API: The powerful JS API allows you to use Divi Areas Pro for whatever you need: Creating dynamic Popups via JavaScript, loading Popup contents via Ajax request, track Popup interactions in Google Analytics, and much more.
With so many beneficial features for your popups and campaigns, you can create a variety of popups for each of your pages, and define when and where each popup gets displayed, creating relevant and targeted marketing campaigns in the process.
In short, we've made a great effort to include every beneficial feature that you need to start creating powerful popups and signup forms for your Divi website.
Modern and extendable structure
The Divi Areas Pro Code adapts to the latest standards. All JS and CSS is minified, and even the dynamic scripts that are injected into your HTML!
While other plugins are quick to add Cookies to track closed Popup, this plugin uses the modern localStorage API to track those details. Of course, when localStorage is not supported by the current browser, it falls back to traditional Cookies.
The other big advantage of Divi Areas Pro is the documented and extendable JS API: You can add custom JS code to monitor and trigger Popups.
The price!
While the plugin is a solid all-round solution you might notice the price: With $67 per year, it's not the cheapest plugin that's exclusively built for Divi.
However, for only a one-time payment of $199, you can get a lifetime licence for the plugin, which also includes access to Areas Pro and all of our future plugins.
Impressions
Even the plugins Settings page looks familiar to all Divi users

Let's create the first Divi Area!

The Popup contents can be designed with Divis' Visual Builder.

Here I've added a second section

Each Popup can be highly customized.

Every option comes with an inline help-box that explain the usage or offer tips.

This Popup is limited to display on two pages only and is triggered on exit or after 10 seconds - depending what happens first

Customizing the max-width of the Popup instantly updates the Visual Builder preview

Divi Areas fully supports the Divi Library

All Popup options are stored in the Divi Library and are editable.

This is how my demo Popup shows up on the Home-page

The JS API displays useful details when the integrated Debug-Mode is enabled

Even dynamic JS snippets are minified and only contain relevant code
Strengths
It contains all features that Popups for Divi offers

Create new Popups in the wp-admin area via a custom Post type, or directly on the page (like Popups for Divi)

It combines Popups with other features, such as Fly-Ins and Hover Areas

Help and tips are built into the plugins admin UI

A completely "Divi-like" admin layout. It's hard to tell where Divi ends and Divi Areas begins

It's compatible with caching plugins

Even the dynamic JS snippets (with the Popup-Settings) are highly minimized. It's goal is performance

Public knowledge base with documentation and examples

Automatic triggers: Timed, On Scroll, Exit-Intent, On Click, On Hover

Uses localStorage to track closed Popups for better performance
Weaknesses
It's higher priced than other solutions

From all plugins on this list, it's the youngest one
Price
From $67/year, for unlimited number of websites. $199 for a lifetime access
GPL compatible license
---
Conclusion
There you have it! I've reviewed all the best Divi popup plugins available, and since all of them are really powerful, the choice will depend solely on your specific needs.
If you only want to use the Popup to build an email list, the choice is clear: Go for Bloom! It integrates perfectly with Divi and handles all the legwork regarding this task extremely well.
If you don't want to spend money on a premium plugin (yet), then install Popups for Divi!
The Divi Popup Module is easy to use when you need to create simple Popups. It has a rather limited feature set – be aware of that, before you purchase this premium plugin.
Divi Overlays has a proven track record starting from early 2017. New features and improvements are added continuously, but the user interface is still far from modern and takes a while to get used to.
Divi Areas Pro is the only plugin with a UI that blends into Divi, and it's the most feature-rich plugin to create Popups and other "Areas" (such as Fly-Ins). The public knowledge base, thorough documentation and built-in help content also help to justify the plugin's price.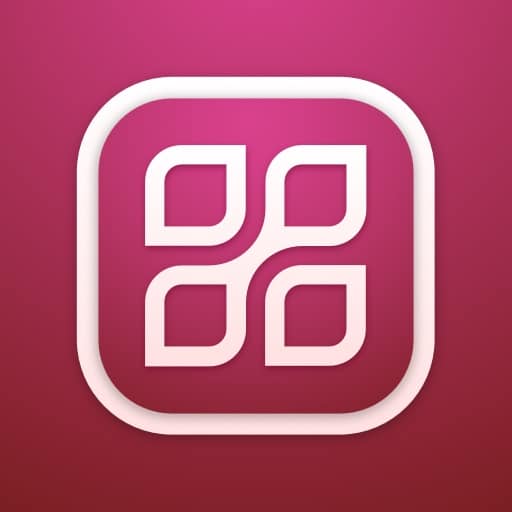 Try Divi Areas Pro today
Sounds interesting? Learn more about Divi Areas Pro and download your copy now!
Many pre-designed layouts. Automated triggers. No coding.

Click here for more details
---
Do you think, some aspect is missing (or wrong) in this review? Or are you looking to have another Divi extension reviewed on divimode.com? Head over to the review form and submit a request!