Want to build your email list, improve your lead generation efforts, and boost sales? You might need to reach lots of people at the right place, and at the right time.
After all, a list is not built over night, and a sale is not made without asking.
In your case, the right place is your Divi website, the means to reach your customers can be a plugin or a tool that can promptly display email opt-in forms, and Divi Areas Pro is one of the best.
If you've been asking yourself whether you should use Divi Areas Pro, then this article is for you!
In our detailed overview, we'll single out the Divi Areas Pro features that improve your business website and help you create effective opt-ins to boost your lead generation effort.
Table of Contents
Divi Areas Pro: A Quick Overview
Divi Areas Pro is rooted primarily from our free Popups for Divi plugin (80,000+ downloads) as one of the most popular Divi plugins to date.
Over the years, we've evolved Divi Areas Pro to become a fully upgraded version that can be used on any Divi website, blending in perfectly with the Divi theme.
Divi Areas Pro now boasts powerful features and purposes, all focused towards helping you grow your email list and generate more leads as a result.
Once you've signed up with Divi Areas Pro, you can create interacting Popups, opt-in forms, Fly-ins, and then decide when and where to display them on your website.
This Divi Areas Pro review will explore the best features of the plugin, however, if you're pressed for time, the following are just some of the main Divi Areas Pro features to be highlighted:
Individual Popups: Turning any Divi Section into a Popup, right inside the Visual Builder. Really straightforward.

Global Popups: Preparing advanced Popups in a new Admin Area, while automatically inserting the Popups on the pages that need them.

Unlimited Areas: Supporting multiple Popups, Fly-Ins and other Areas at the same time.

Fly-Ins: Sliding a Fly-in into the screen and keeping it visible without blocking the rest of the page.

Hover Areas: Creating Mega-Menus or Tooltips using Hover Areas that are always attached to a visible element on the page.

Inline Areas: Inserting or replacing content on any page, using Inline Areas. You could add a banner at the end of every blog post or insert a message to logged-out users.

Time-based triggers: Creating Popups that are opened after a certain duration. You can even set the duration to "0.0" to show a Popup instantly when a page is loaded.

Scroll-event triggers: Presenting a newsletter subscription form when the user scrolled down particular % of the page. Defining a scroll-distance either in percent or pixel.

Exit-Intent trigger: Displaying Popups right before a visitor leaves your page has never been easier. Enable the Exit-Intent behavior and Divi Areas Pro will do the rest.

Back-Button trigger: Intercepting the back-button click and display a Popup or Fly-In instead. Reliably works on every device.

Target posts or pages: Selecting individual pages or posts that should show (or not show) a Popup.

Target devices: Disabling an Area on a device-type via the familiar "Desktop," "Tablet," "Mobile" options.

User Role conditions: Displaying Areas based on any user role. That way, you can show different content to guests than to logged in members.

URL and Referrer checks: Enabling Areas when a certain URL parameter is present, or when the visitor arrives from a specific referrer, like a search engine.

Powerful Inline Conditions: You have the choice to display Inline Areas "Before," "After," or "Instead Of" any other Divi Section.

Flexible Inline Locations: Replacing a section by CSS ID or Class, or by the position. You can also inject Inline Areas into Theme Locations, like "Header," "Main Menu," "Footer," "Post Content," or "Comment Form.

Date Conditions: Displaying an Area during a date-range or define a weekly schedule. Date conditions are verified with an Ajax request and are compatible with every caching plugin.

Works with Divi Theme and Divi Builder Plugin: Initially built for the Divi theme, the plugin now works with all themes that use the Divi Builder plugin.

Hooks, Filters, Debug-Mode: Hooking into the plugin core to customize options and features. Turning on the Debug Mode to output un-minified code and see what the JS API is doing.

WooCommerce Integration: Displaying Popups inside WooCommerce product pages, the shopping cart, or during the checkout.

JS API: A powerful JS API allowing you to use the plugin for anything you like, from Creating dynamic Popups via JavaScript, loading Popup contents via Ajax request, to tracking Popup interactions in Google Analytics, and more.
It's fair to say that Divi Areas Pro is an ultimate Divi extension that can be a valuable lead generation asset for your business website.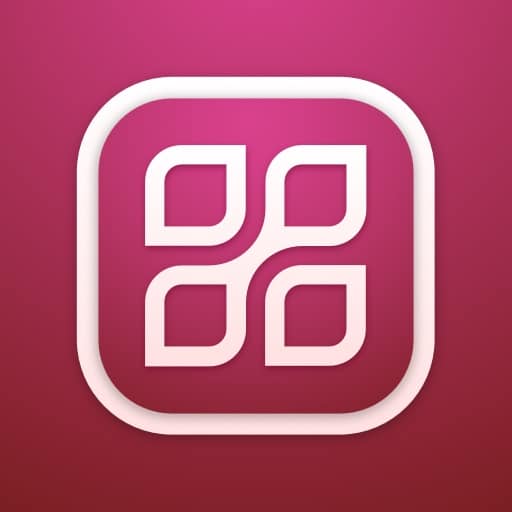 Try Divi Areas Pro today
Sounds interesting? Learn more about Divi Areas Pro and download your copy now!
Many pre-designed layouts. Automated triggers. No coding.

Click here for more details
Divi Areas Pro Features to Improve Your Website
Now, we're going to show you the most important features of Divi Areas Pro and how they can successfully help your business website.
Multiple Popup Triggers
There are many ways to trigger a Popup or Divi Area with Divi Areas Pro. You can choose a set of automatic triggers that can be configured directly in the Trigger tab, without having to edit your page or insert a code snippet.
Module Link
You can define a trigger by setting any Module Link to an Area ID #sample-area, which works great for every Divi Module, particularly Sections and Rows.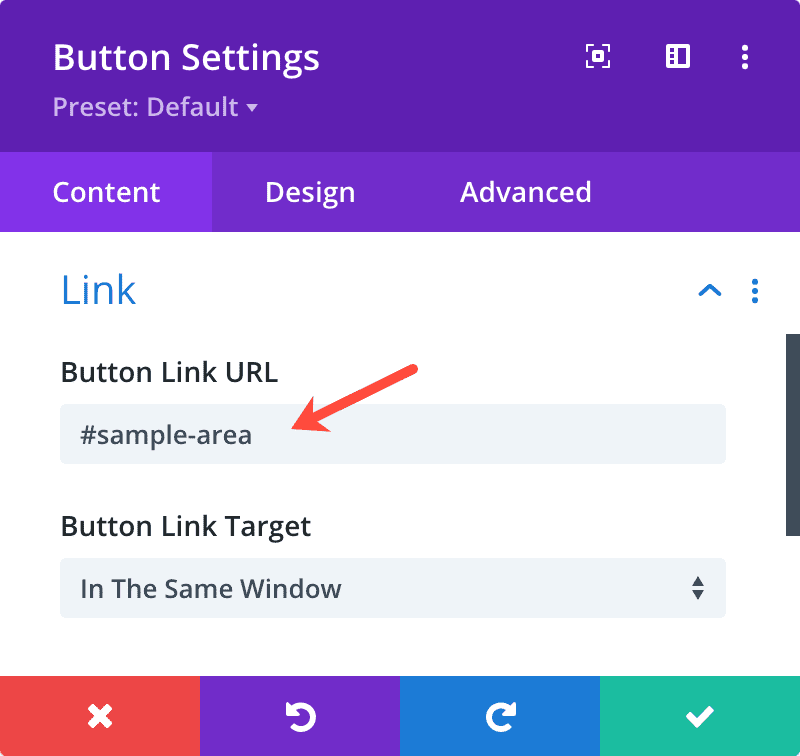 Exit Intent
When editing an on-page Popup (i.e., with the Popups for Divi plugin), you can use the Enable Exit Intent flag to make that Popup appear up when an intent to exit is detected.
When you edit a Divi Area, you can use the automatic Exit Intent trigger to do the same.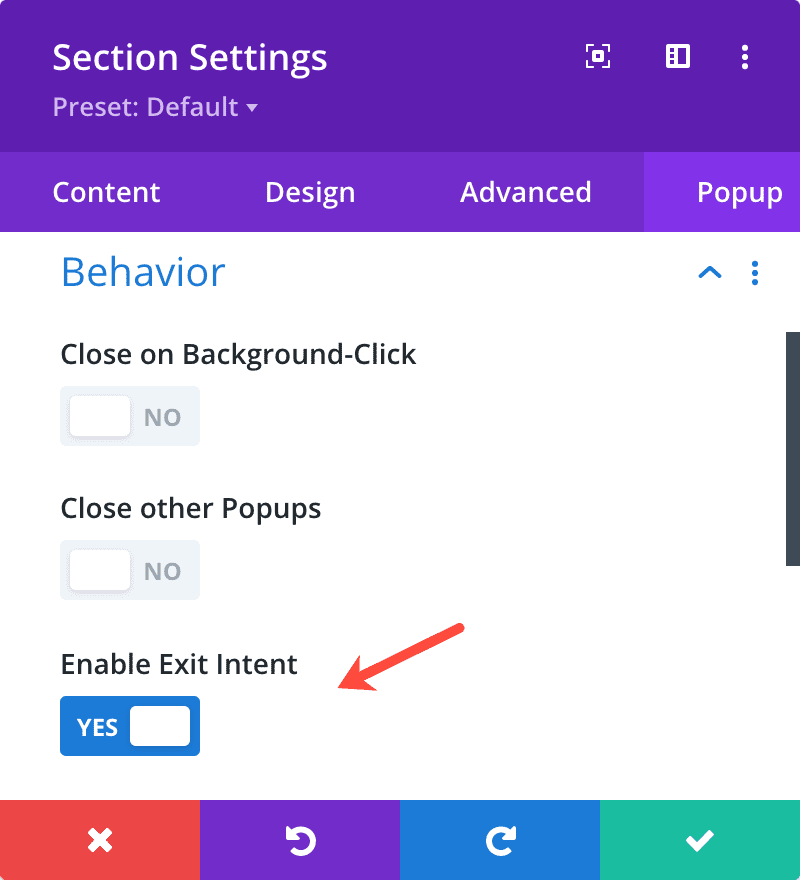 Automatic Triggers
Through the Divi Areas meta box, you can use any of the built-in automatic triggers: On Click, On Hover, After Delay, On Scroll to element or position, Exit Intent, On Inactivity, On Browser Focus.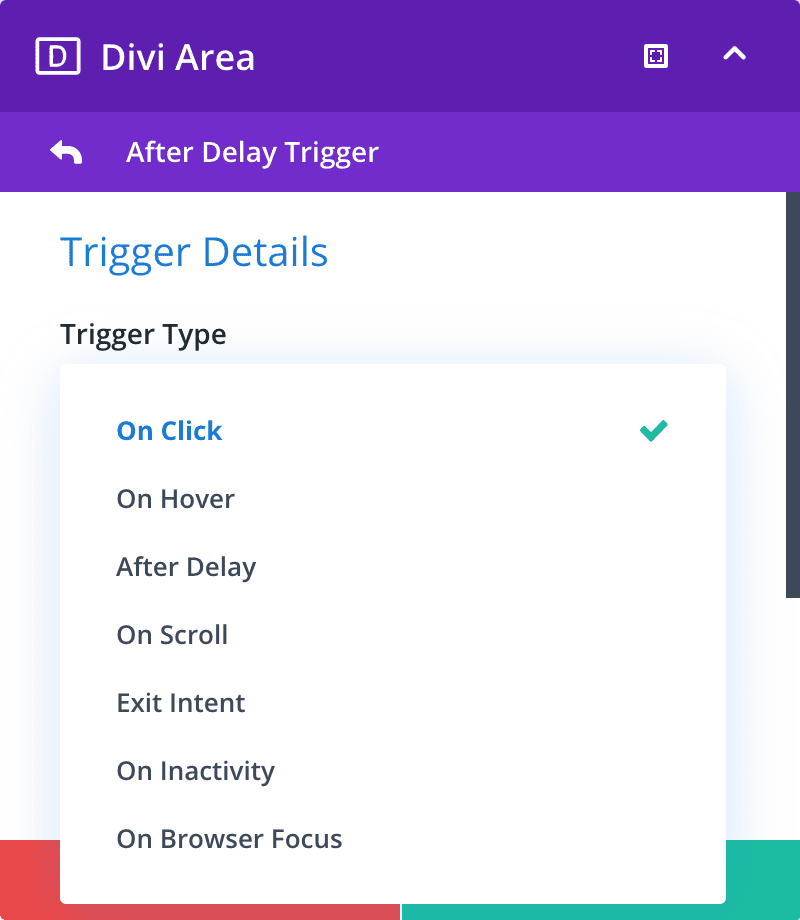 URL Hash
With Divi Areas Pro, you can trigger your Areas on a specific page by adding the Area ID to the URL, which can be ideal for triggering a Popup after completing a contact form.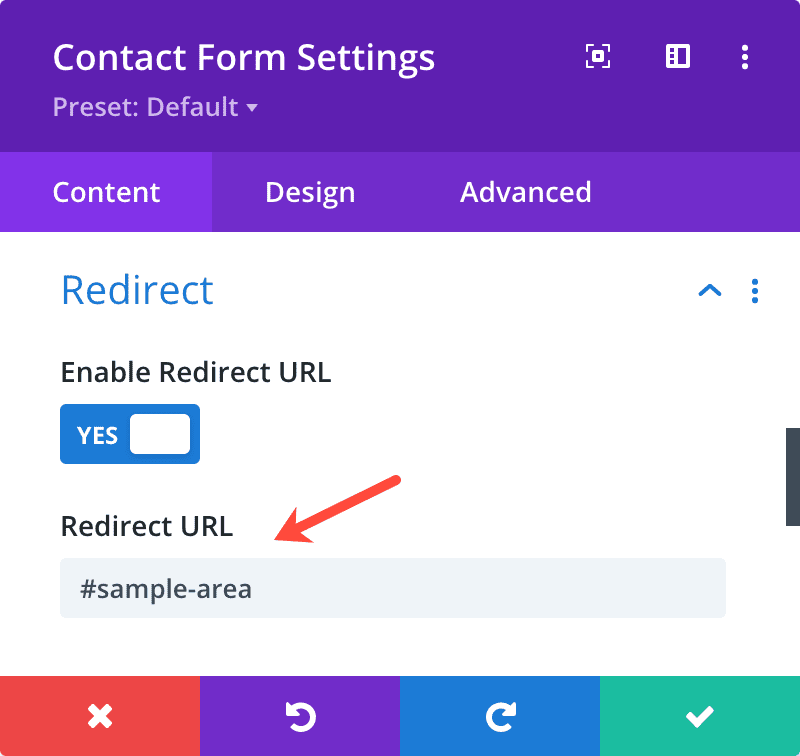 Hover Triggers
A repeated hover trigger can display the Area every time the trigger event happens, such as clicking a button or hovering a menu item.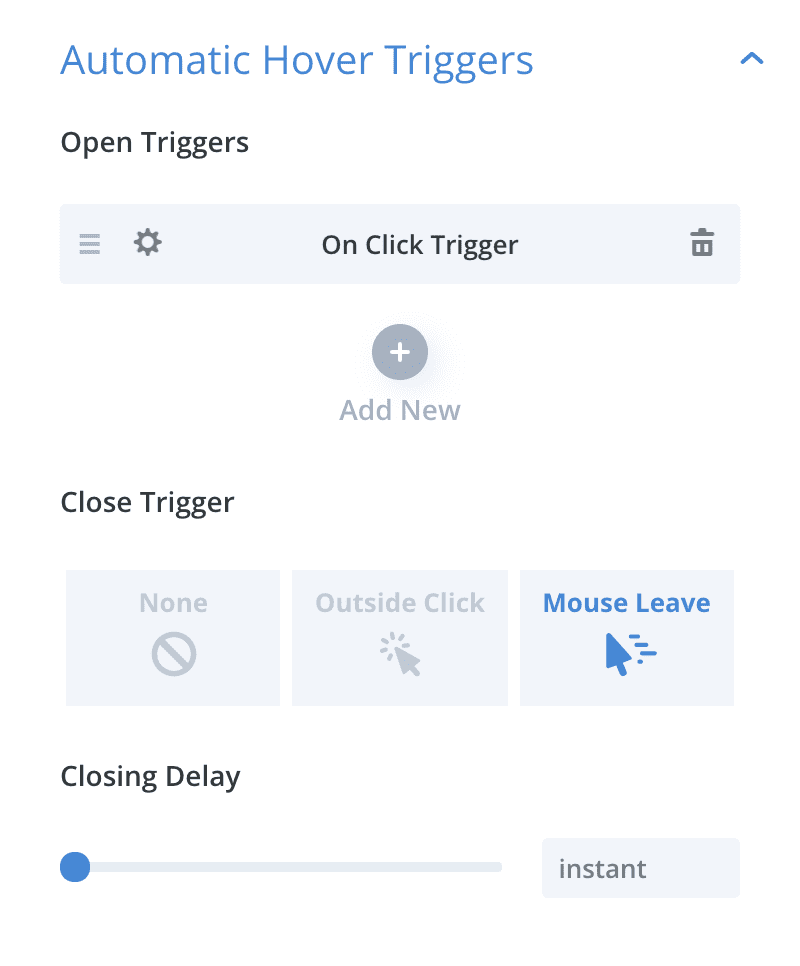 Dynamic Content URL
You can use the Divi Dynamic Content feature to insert a Divi Area trigger to any URL field of your website. When using this trigger, the Area will be automatically loaded on the page, regardless of your pre-defined "Page Rules" for the Area.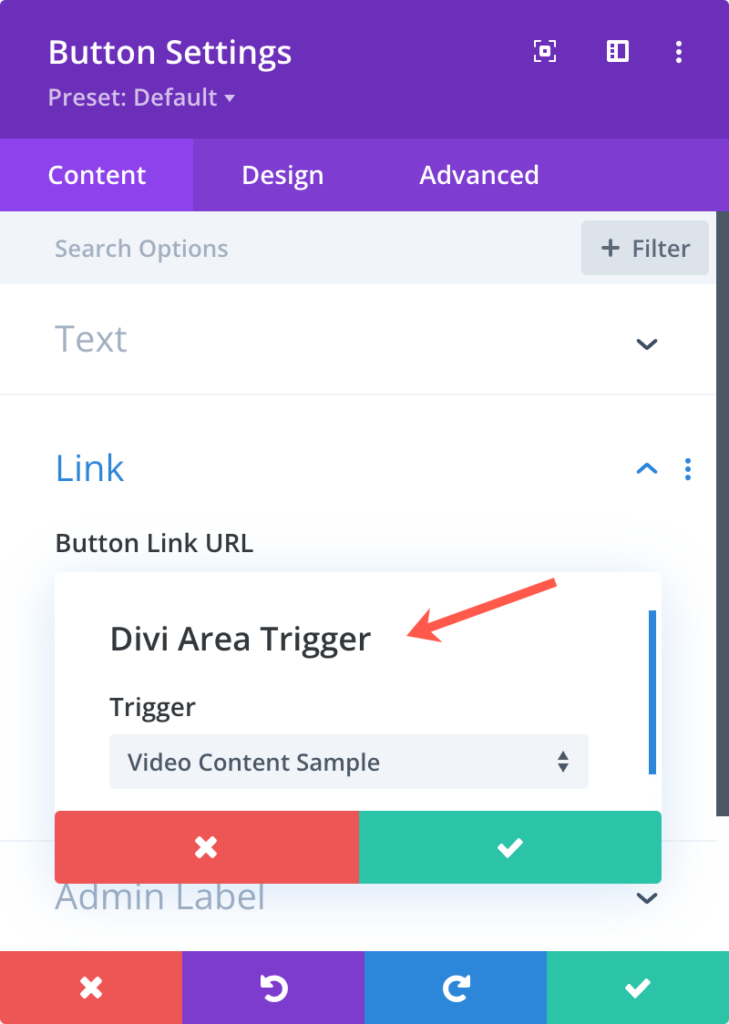 Layout Types and Library
With Divi Areas Pro, you can choose to create with four different types of layouts that allow you to add a Popup, Fly-in notification, or a hover notification on every section on your pages.
Popups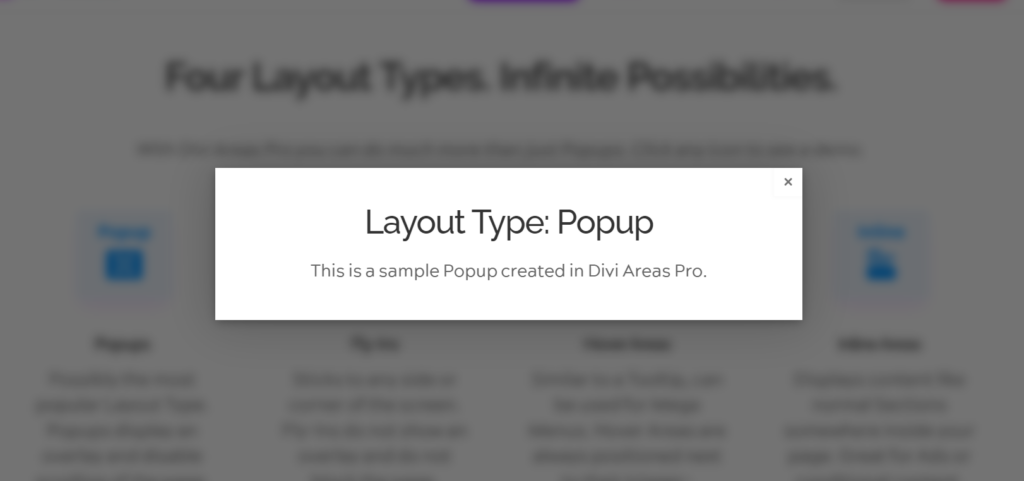 The Popup is perfect for displaying prompt notifications such as promos and email opt-in forms.
Fly-ins
Again you can use the Fly-in layout for growing your email list as a means to not block the rest of the page and interrupt the user experience.
Hover Areas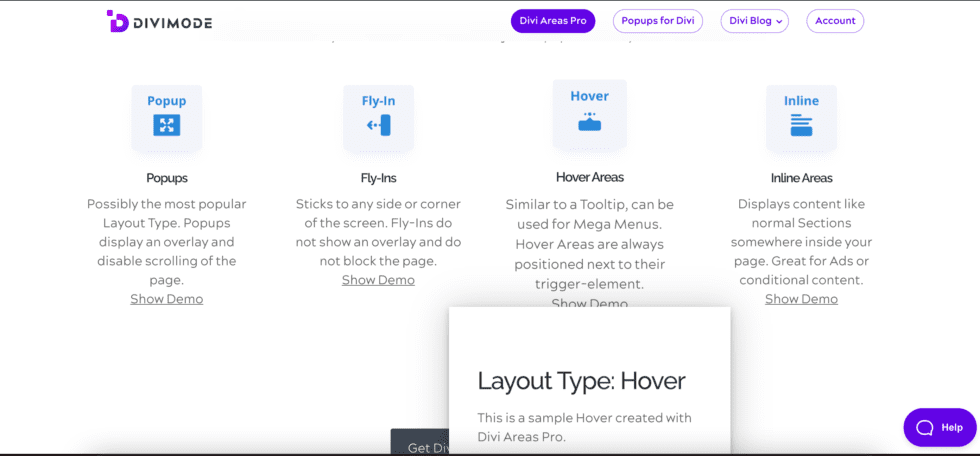 The Hover Areas layout can be utilized for multiple purposes, including mega menus. It is always placed near a trigger element.
Inline Areas

Inline Areas can help you display content in a section of the page, and this would work brilliantly if you want to present ads or conditional content.
As a bonus, Divi Areas Pro includes a Layout Library with pre-built and configured Area templates.
Seamless Compatibility and Integrations
The Divi Areas Pro plugin integrates seamlessly with an impressive number of plugins and service providers, including:
While each integration works and it's set up differently for your Divi Areas Pro Popup, the links above will provide you with all the documentation necessary to help you understand the integrations.
Over to You
Divi Areas Pro is a very powerful and feature-rich lead generation tool for growing Divi websites, and best of all, it integrates brilliantly with the theme and is pretty straightforward to use.
With Divi Areas Pro, you can build and customize campaigns for your business website via Popups, Fly-ins, hovers, mega menus, and conditional inline content, even if you're a novice Divi user.
Overall, Divi Areas Pro is highly recommended for anyone who wants to grow their business by growing their email lists and generating more leads.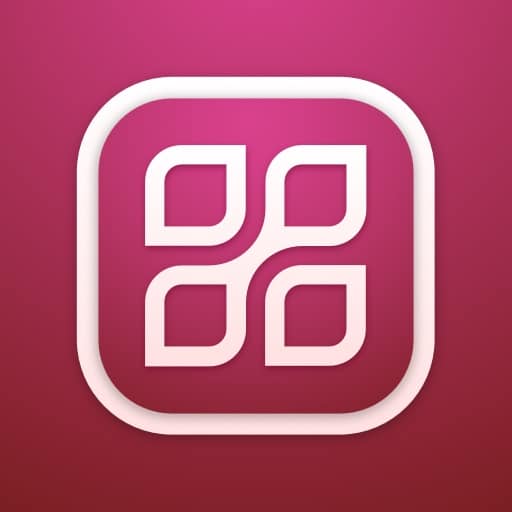 Try Divi Areas Pro today
Sounds interesting? Learn more about Divi Areas Pro and download your copy now!
Many pre-designed layouts. Automated triggers. No coding.

Click here for more details