The world is changing and digital marketers are making use of email tools to complete their digital marketing strategies. The need for email and marketing automation tools is evident and may be the bridge between a successful marketing campaign and an unsuccessful one. An email marketing tool such as Brevo or Mailchimp connects Facebook ads, chatbots, and funnels all into one flawless strategy.
In this article, we compare two very popular email marketing software, Brevo VS Mailchimp. Let's see what email tool is the best email solution for your small business.
Table of Contents
What is Brevo?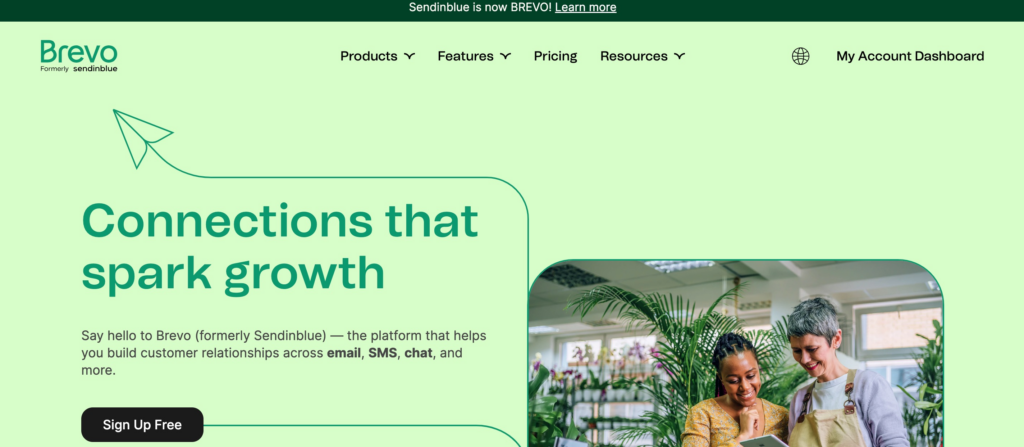 Brevo is possibly one of the fastest-growing email marketing solutions. The company started out in 2007 and helps businesses grow through its email marketing tools (SMTP Server, Facebook ads, SMS marketing, embedded forms, funnels, etc.).
What is MailChimp?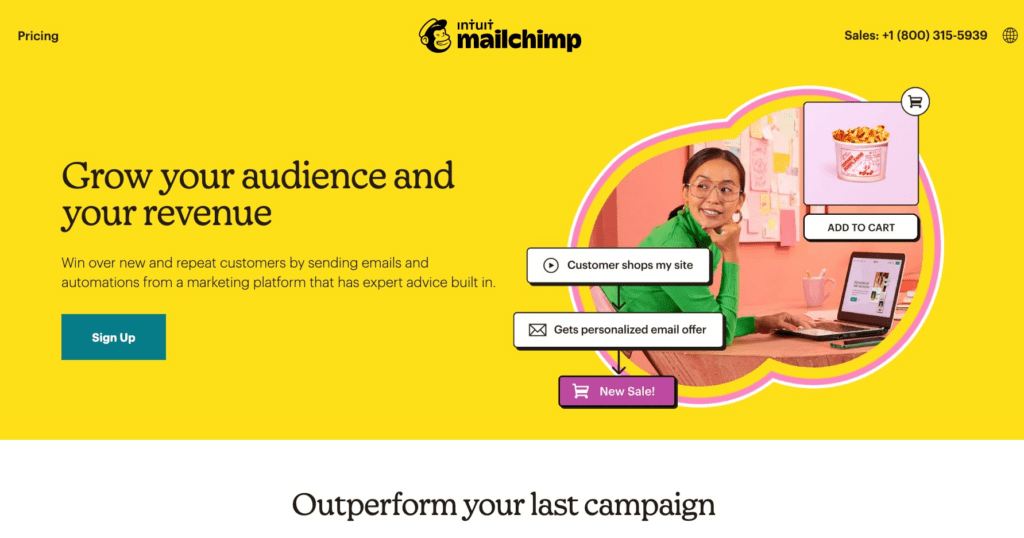 Mailchimp is a very popular email marketing platform in the digital marketing community. You cannot call yourself a digital marketer or business owner if you have not heard about Mailchimp. Mailchimp was founded in 2001 and focuses on empowering small businesses with tools like postcards, google ads, Facebook, etc.
Brevo VS Mailchimp
Let's see who wins according to their different features compared. In this comparison, we compare Brevo VS Mailchimp to see who wins in terms of pricing, automation capabilities, designing, etc.
Brevo Vs Mailchimp Pricing Comparison
When you need to choose the best email marketing tool for your business, you will look at what the software offers in terms of pricing.
Brevo Pricing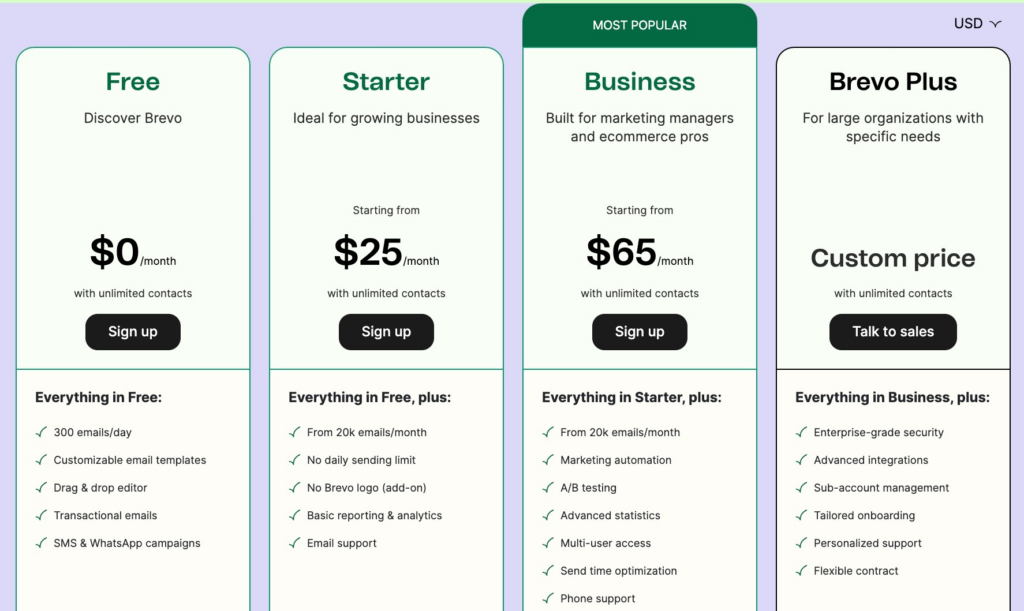 If you have a big company or marketing plan and you want to send out a lot of emails in a month, you should go for Brevo rather than Mailchimp. Brevo is very reasonable if you look at its higher plans.
Mailchimp Pricing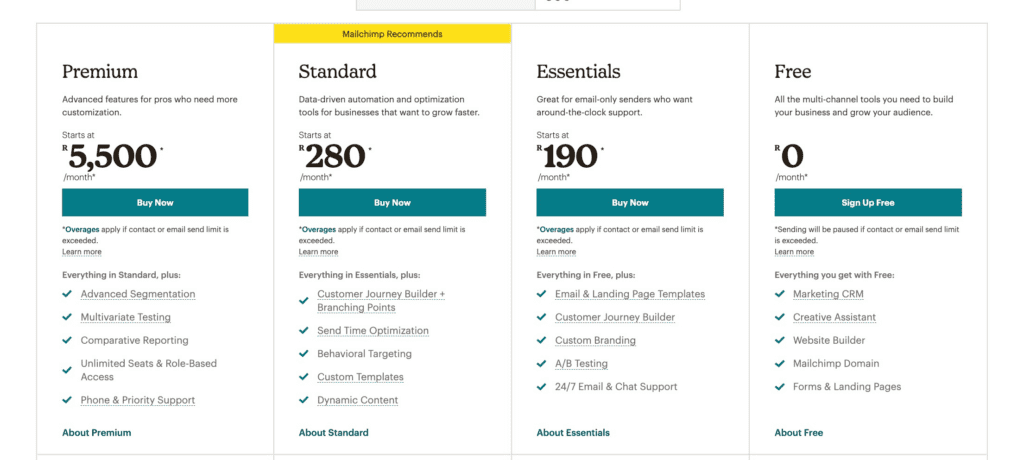 The biggest disadvantage of MailChimp is if you are looking at its free plan, the 2000 contact list gets exhausted very fast when you compare it to the Brevo plans.
Both Brevo and Mailchimp provide a free plan for their users, it will be up to you to decide the best package according to your needs.
Brevo Vs MailChimp Email Marketing Automation
As I mentioned above, Mailchimp is one of the most popular email marketing services out there, but Brevo is right on its heels. With Brevo you can run advanced trigger-based campaigns by analyzing email engagement, contact data, and web-behavior.
Brevo Email Marketing Automation
Brevo's automation features are extremely easy to use. You can easily create targeted messages and emails based on customer behavior.
Some of Brevo's most popular automation functionalities:
The sending of emails/SMS
The creation of CRM tasks
The automatic segmentation of contacts into different lists
You can automatically update information in your contact database
To create an automated campaign with Brevo, you can navigate to the "Automation" tab in the navigation bar on the left.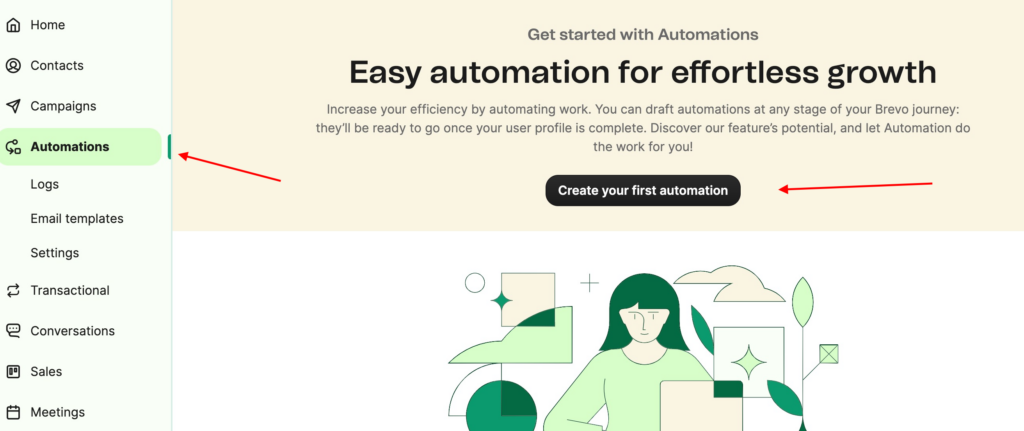 In the next window, you can select the "Create a workflow" button to start new automation. Now you can create a custom workflow or select one from the given templates.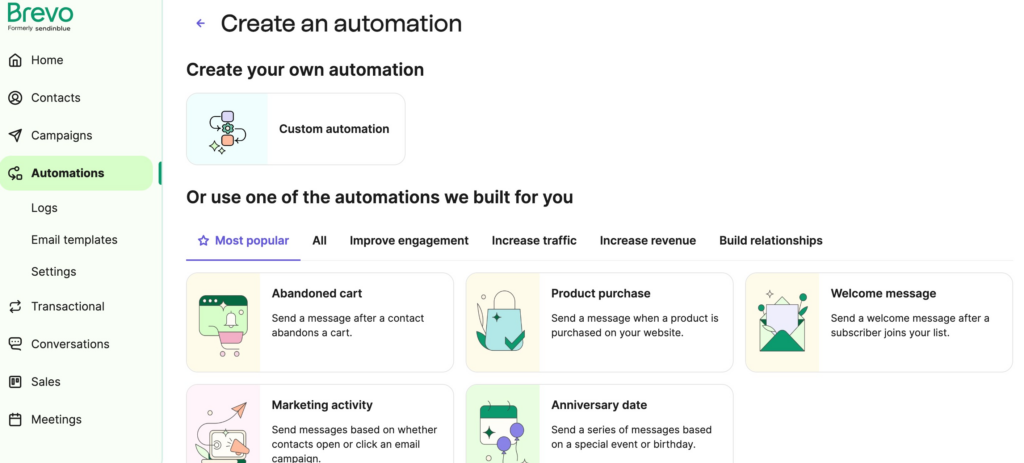 Mailchimp Email Marketing Automation
To create an automated campaign with Mailchimp, you can navigate to the "Automation" tab in the navigation bar on your left.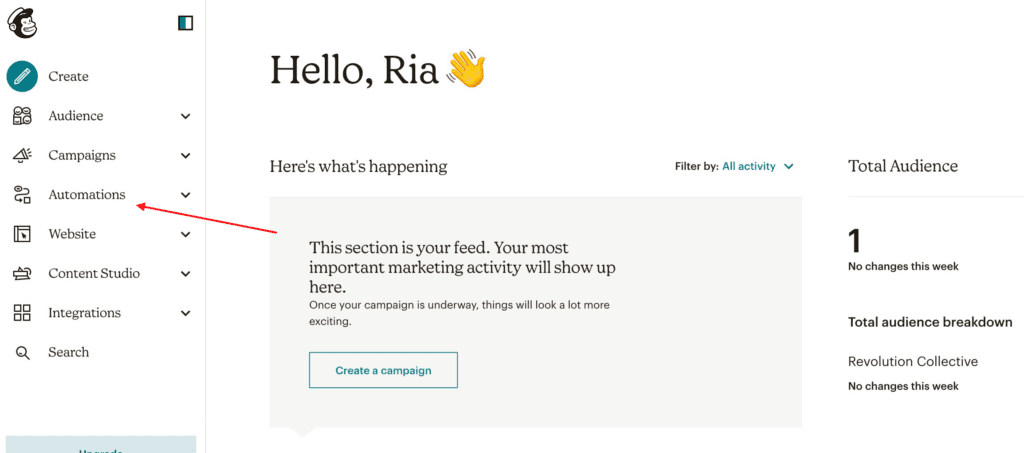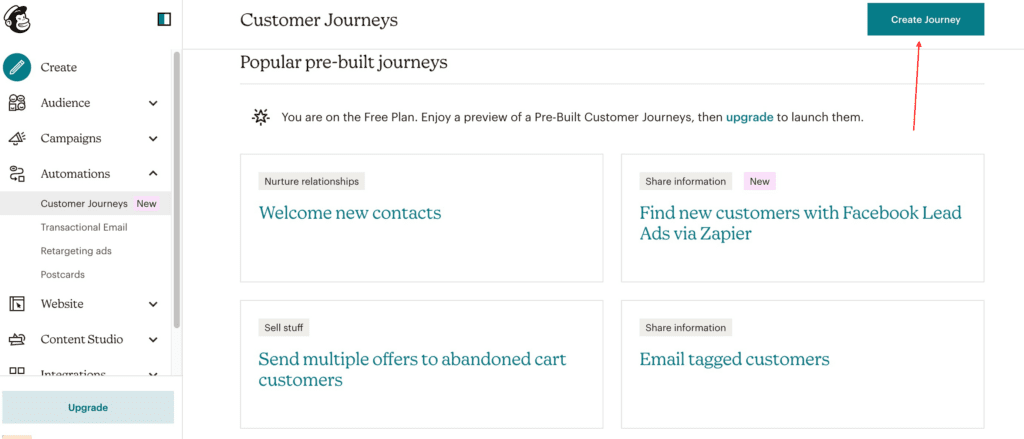 MailChimp offers great packages and automation features. You can easily implement them by choosing multiple triggers. However, Mailchimp's automation builder is not very flexible. You will have to adapt your strategy to the existing pre-defined flows.
Brevo VS Mailchimp: Creating Campaigns
Mailchimp
With MailChimp, you get 100 email themes for different email types; newsletters, eCommerce, notifications, etc. This is more than enough to get you started. especially if you've got little time Most of the Mailchimp templates are mobile-friendly and well-designed.
To create a campaign with Mailchimp, you will navigate to the "campaigns" tab and click on the "create a campaign" button. This will take you to the next tab where you will choose your template.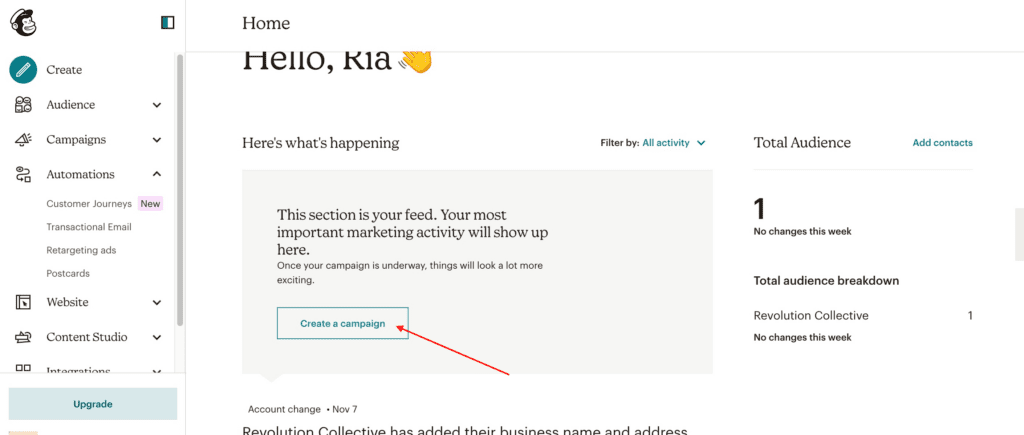 You will then choose the ideal template that fits in with the campaign you want to send out. Luckily, you can edit and adjust the templates as you wish with the Mailchimp drag-and-drop builder.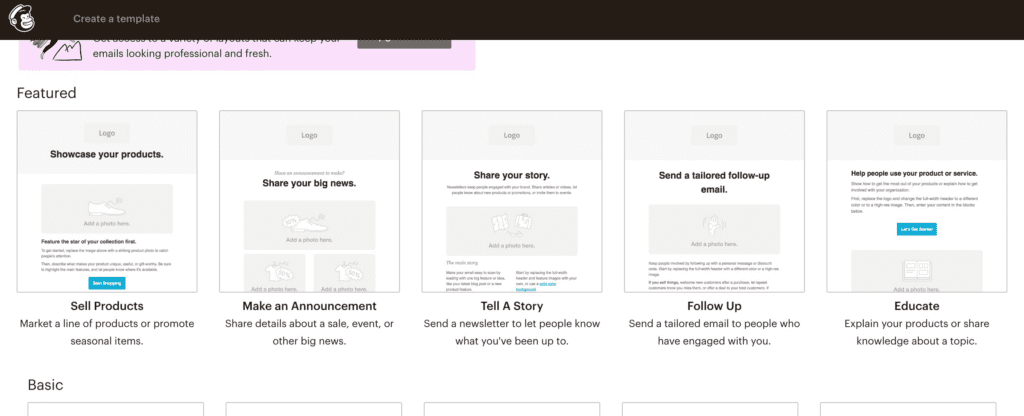 Brevo
Just like with MailChimp, Brevo also offers different email templates for different email types like newsletters, eCommerce, notifications, etc. Brevo offers a very easy-to-use, mobile-friendly drag-and-drop email builder. You can create different types of campaigns with Brevo that not only includes email campaigns but also SMS, WhatsApp, Web Push, and Facebook Ads campaigns.
To create a marketing campaign with Brevo, you will navigate to the "campaigns" tab on the left.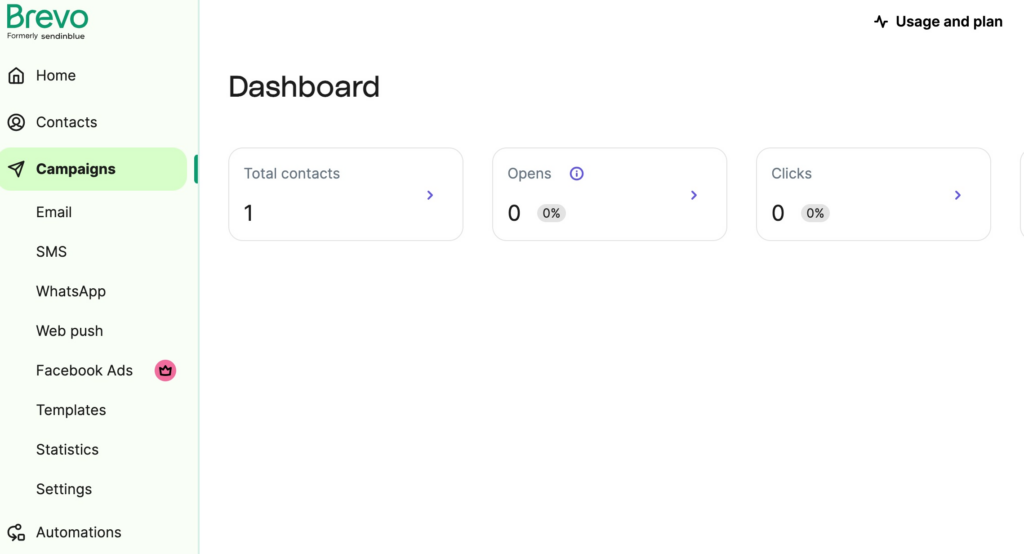 For this tutorial, we will take a look at how to create an email campaign with Brevo. So, let's start. After you clicked on the "Create a new campaign" button, you will be asked to name your new campaign. After you have done this, you can follow the instructions, choose your theme, and use the drag-and-drop builder to customize your campaign.

Conclusion – The Final Result
According to our analysis, Brevo is the clear winner in the comparison of Brevo vs Mailchimp. Mailchimp has a better email template collection but is a more expensive email marketing service. Brevo offers more features at a reasonable price point.
Brevo is a clearly better MailChimp alternative!
FAQ
Which is better Mailchimp or Brevo?
Both Mailchimp and Brevo have their advantages and disadvantages. But when it all comes down to it, the reality is that Mailchimp is a little more expensive. Your choice of email marketing software depends on what features you need.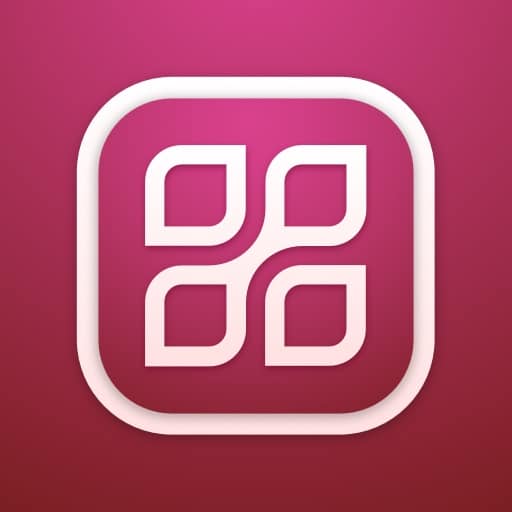 Try Divi Areas Pro today
Sounds interesting? Learn more about Divi Areas Pro and download your copy now!
Many pre-designed layouts. Automated triggers. No coding.

Click here for more details