Are you seeking a powerful and highly effective marketing automation tool to elevate your business's outreach in 2023?
Look no further than Brevo (formerly Sendinblue)! Our team at Divimode has experienced firsthand the remarkable capabilities of Brevo, using it to fuel the growth of our own business.
With its comprehensive set of features and intuitive interface, Brevo has emerged as a favored option among marketers and business owners worldwide.
In this review, we'll explore Brevo's essential functionalities, highlight its numerous advantages, and address common queries about the platform. So, let's dive right in and uncover how Brevo can propel your marketing endeavors to unprecedented heights!
Table of Contents
The Power of Brevo
Brevo is a comprehensive marketing automation platform that offers an array of features to streamline your marketing campaigns.
With the full CRM suite, from email marketing to SMS marketing, automation workflows, and landing pages, this all-in-one tool has got you covered with everything you need to build customer relationships.
Let's explore some of Brevo's standout features:
Email Marketing
With the help of Brevo's drag-and-drop editor, you can create visually appealing and engaging email campaigns coupled with the dynamic content feature aimed towards increasing customer engagement.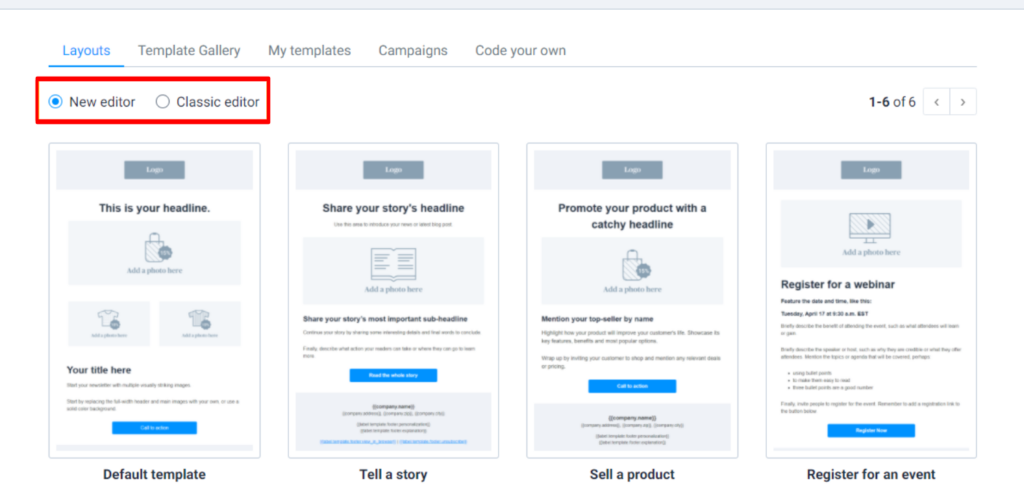 Now, you have two powerful editors at your disposal: the New Drag & Drop Editor and the Classic Drag & Drop Editor.
In the Design Tools tab, you'll now find both the Drag & Drop editors conveniently located for easy access, which ensures a seamless design experience.
To add even more flexibility, Brevo introduced a dedicated tab called "Code your Own", where you'll find the Rich Text Editor and Paste your Code options, allowing you to fully customize your campaign using your own code snippets.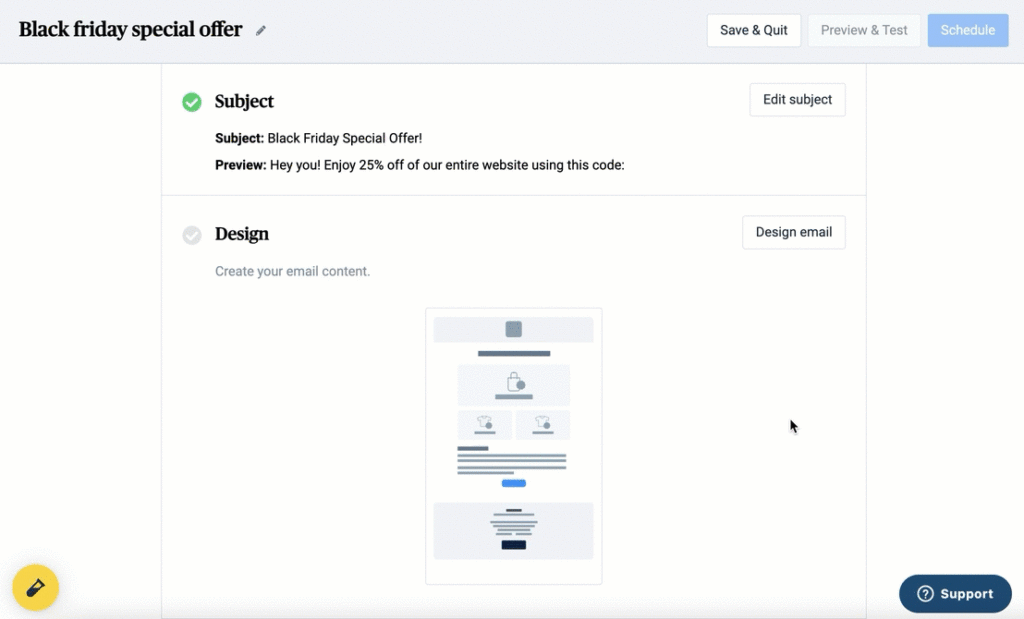 Furthermore, there's also a comprehensive collection of brand-new email templates designed specifically for the new editor. These templates, tailored to your needs, are available in the Template Gallery.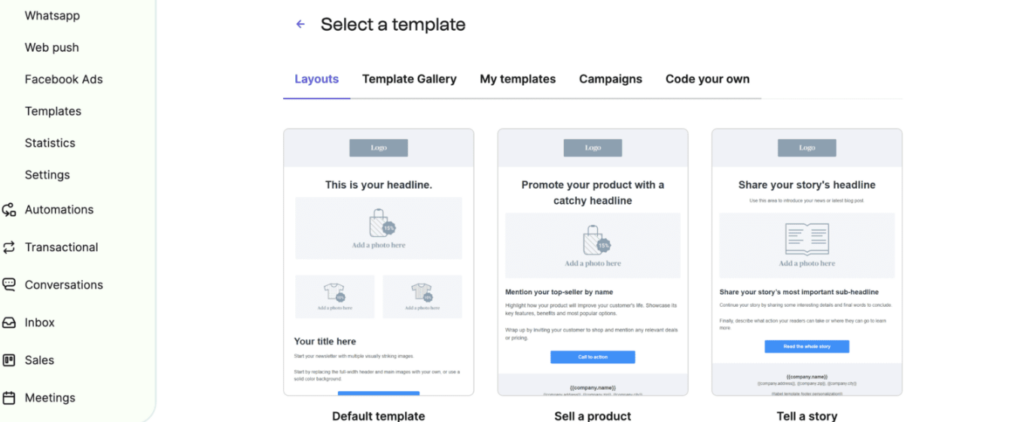 The Dynamic email content feature allows you to create personalized campaigns that you can adjust according to your subscribers' individual needs on autopilot.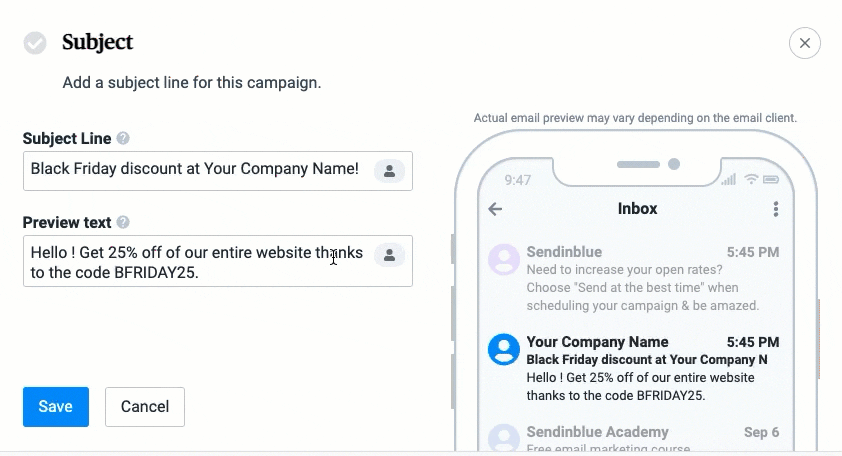 Last but not least, the email marketing feature allows you to also utilize A/B testing to optimize your email campaigns and achieve higher conversion rates.
In Brevo, you can A/B test different elements for your email marketing campaign, from your subject lines all the way to the email content.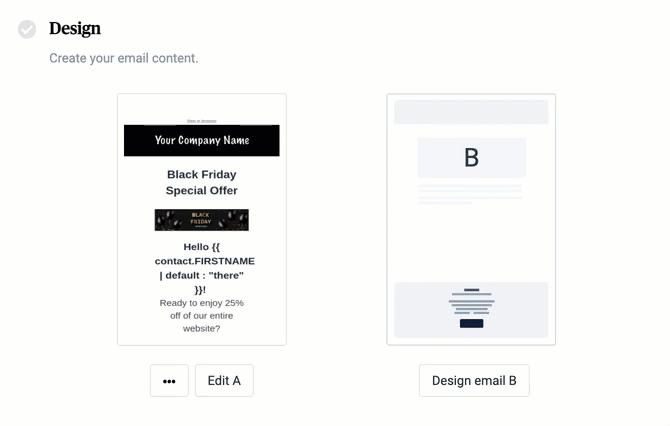 SMS Marketing
Yes, SMS marketing is still here, and it works, with the spending figures expected to reach a whopping $339 billion in the U.S. alone.
Brevo allows you to reach your target audience instantly through personalized SMS messages through automated messages and workflows based on customer actions, and analytics to make sure that your SMS marketing is performing as it should.
Before you can start sending SMS messages, you'll need to make sure that your SMS account is validated. Make sure you comply with the legal requirements regarding obtaining consent for sending marketing messages, especially when sending to US citizens.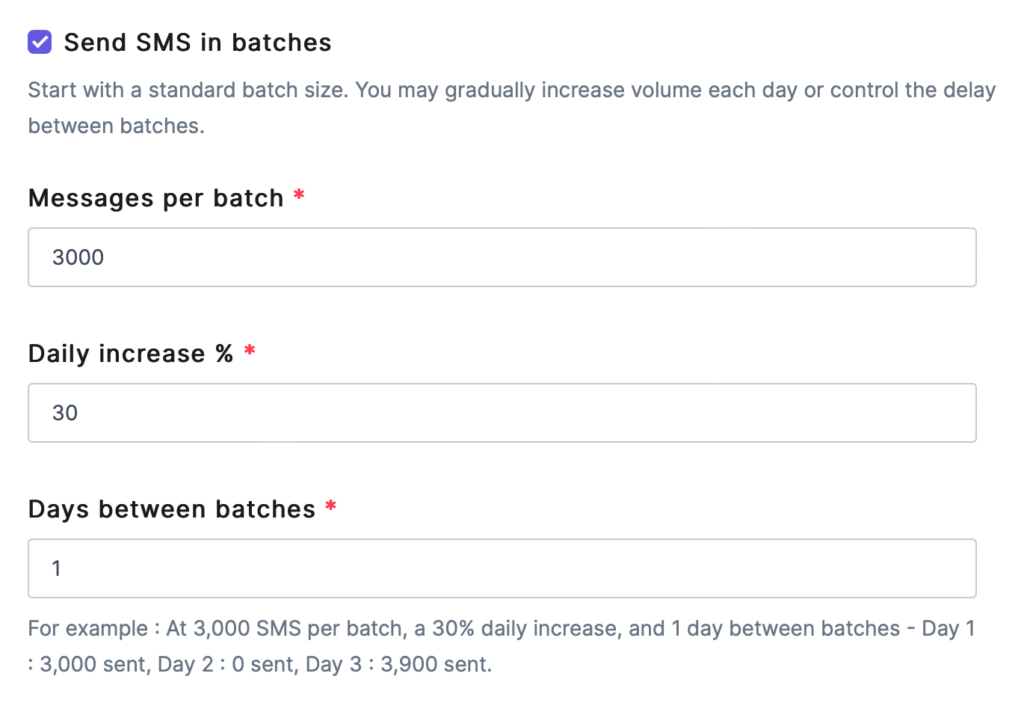 You can decide whether you want to send your messages in bulk, schedule them, or send them immediately.
Once your SMS campaign is live, you can track its performance using Brevo's reporting features. Monitor delivery rates, open rates, click-through rates, and other relevant metrics to assess the effectiveness of your campaign.
Lastly, you can also use A/B testing to compare different versions and identify the most effective strategies.
Marketing Automation
Online businesses to boost their customer relationships can simplify the process of achieving this goal with the help of Brevo's marketing automation features and the following benefits:
Automate time-consuming tasks in your marketing strategy
Improve customer experience through personalized journeys
Revive your inactive and retain your reactive contacts
Give more visibility to your company/brand
Automation allows you to focus on the aspects of your marketing strategy that matter, helping you to devote more time in developing and scaling your activities as a result.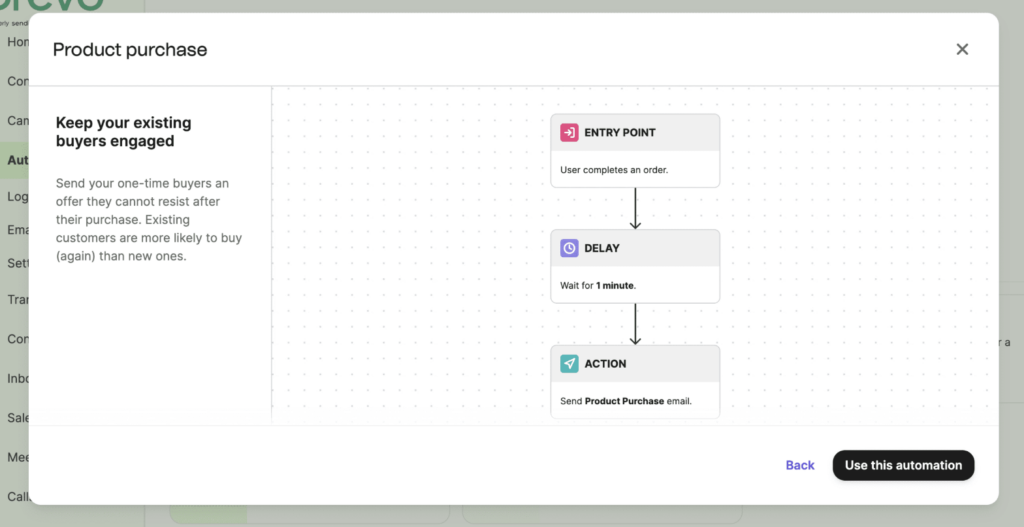 With Brevo, you can easily build complex automation workflows within the intuitive visual workflow editor and, furthermore, segment your audience based on a specific criteria for highly-targeted marketing campaigns.
Brevo Automation is designed to meet everybody's needs. You can start off with workflow templates and customize them according to your needs, or you can create your own custom templates and define your own entry points, actions and conditions.
Here are just a few examples of advanced workflows that you can build in Brevo:
Abandoned Cart: send a reminder to potential customers after X days of them adding an item to their basket without ordering it.
Purchase follow-up: send a series of emails following a purchase
Lead scoring: assign a score to each of your contacts that reflects their conversion potential and level of interest in your business.
Prospect reminder: send a series of emails based on the behavior of your website users and their reaction to your emails.
Bottom line, Brevo's automation features allow you to nurture leads, onboard new customers, and re-engage with inactive users effortlessly.
Landing Pages
Brevol also allows you to design beautiful and conversion-focused landing pages without any coding knowledge, that you can customize further to match your brand identity.
You can begin with a landing page template or build it from scratch, then customize all the elements on the go.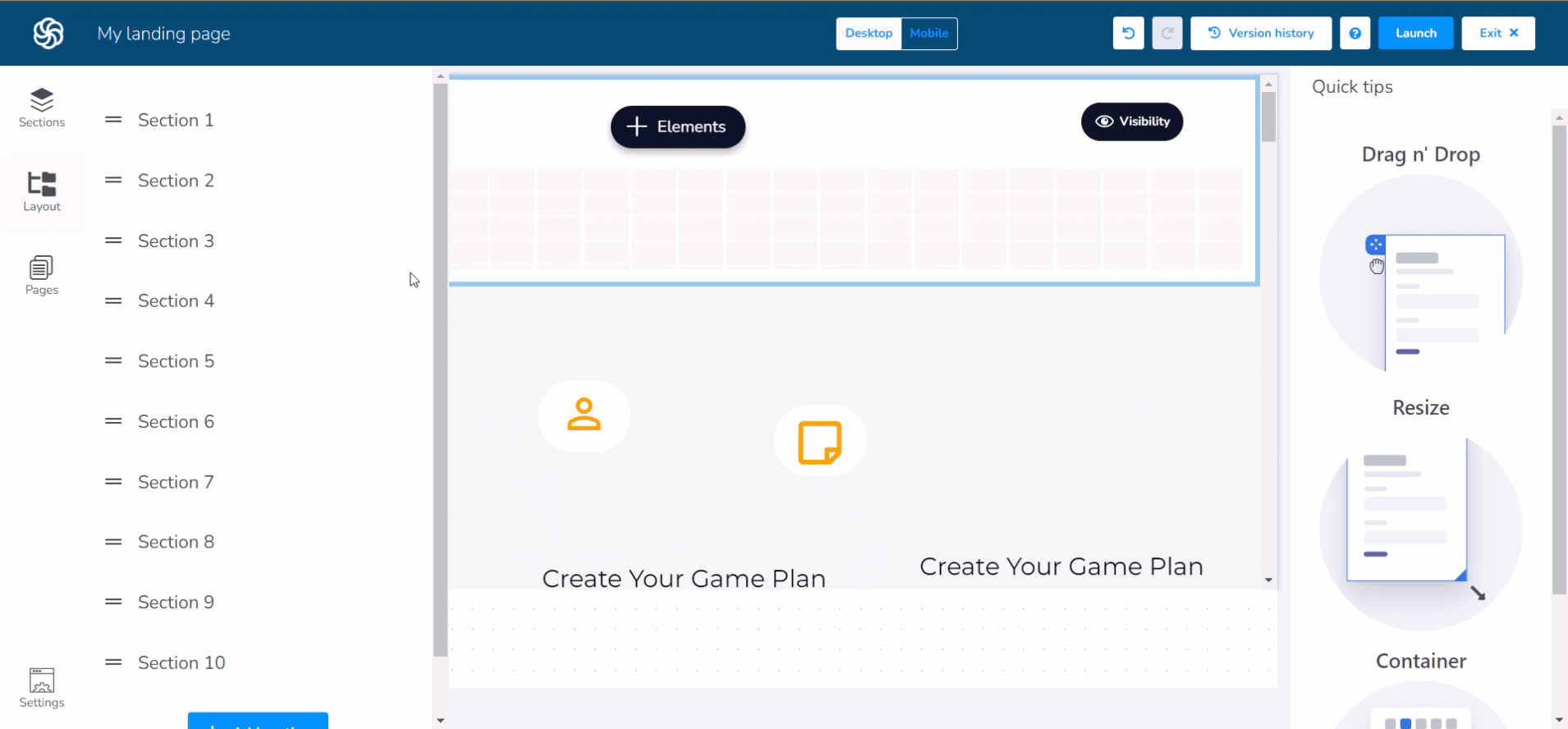 Inside the landing page creator, it is easy to switch and move elements and edit their settings. All you need to do is drag-and-drop the element as you prefer.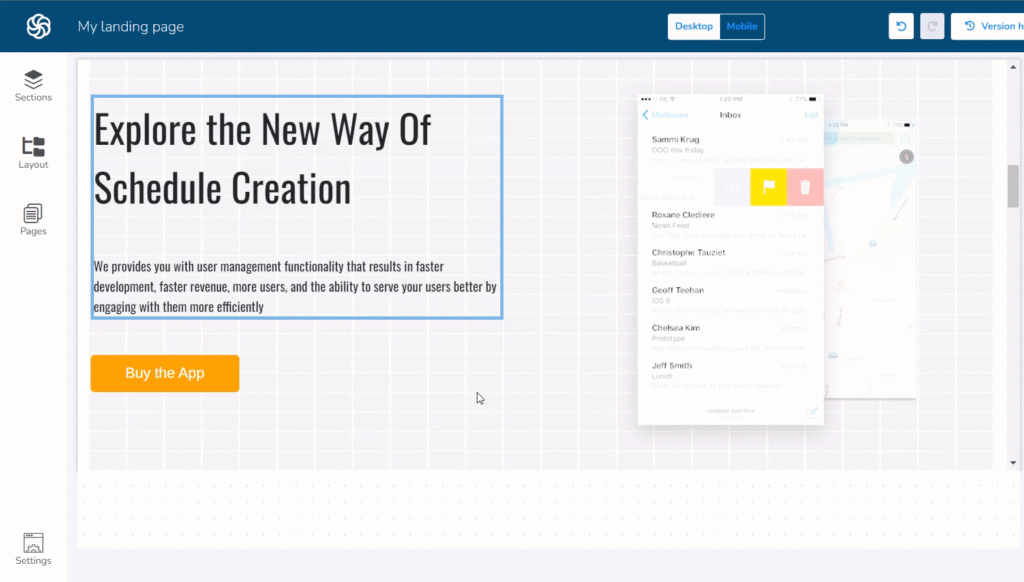 The landing pages are also syncable with Google Analytics, so you can track the number of visitors that interacted with the content.
Key Advantages of Using Brevo
Now that we've covered some of Brevo's key features, let's take a quick look at the most impactful advantages the platform offers:
→ User-Friendly Interface: Brevo's intuitive interface makes it easy for beginners and experienced marketers alike to navigate the platform and create impactful campaigns.
→ Cost-Effective Solution: Brevo provides flexible pricing plans, making it accessible for businesses of all sizes. Whether you're just starting or have a large subscriber base, you'll find a plan that fits your budget.
→ Automation Capabilities: Automating your marketing tasks not only saves time but also ensures consistent and personalized communication with your audience. Brevo's powerful automation features make this process seamless.
→ Deliverability and Compliance: Brevo has robust anti-spam measures in place to ensure your emails and SMS messages reach the intended recipients' inbox. Moreover, it complies with data protection regulations, giving you peace of mind.
→ Analytics and Reporting: Gain valuable insights into your campaign performance with Brevo's detailed analytics and reporting features. Track open rates, click-through rates, conversion rates, and more to optimize your marketing strategies.
Frequently Asked Questions (FAQs)
Can I try Brevo for free?
Yes, Brevo offers a free plan with limited features and a generous email sending limit. It's a great way to explore the platform and see if it meets your requirements.
Is Brevo suitable for small businesses?
Absolutely! Brevo caters to businesses of all sizes. Its flexible pricing plans and comprehensive features make it an ideal choice for small businesses looking to scale their marketing efforts.
Can I integrate Brevo with other tools?
Yes, Brevo integrates seamlessly with popular tools like WordPress, Shopify, and CRMs such as Salesforce and HubSpot. This allows you to streamline your workflow and maximize productivity.
Does Brevo provide customer support?
Yes, Brevo offers customer support through various channels, including email, live chat, and an extensive knowledge base. You can rely on their support team to assist you with any queries or issues.
Conclusion
In this Brevo review, we've explored the power of this all-in-one marketing automation platform.
With its diverse features, user-friendly interface, and affordable plans, Brevo empowers businesses to create impactful campaigns and engage with their audience effectively.
Whether you're looking to boost your email marketing, leverage SMS campaigns, automate workflows, or create stunning landing pages, Brevo has got you covered.
So, why wait? Take your marketing efforts to the next level for the rest of 2023 and beyond with Brevo and witness the growth and success of your business firsthand.
Get started today and experience the power of streamlined marketing automation!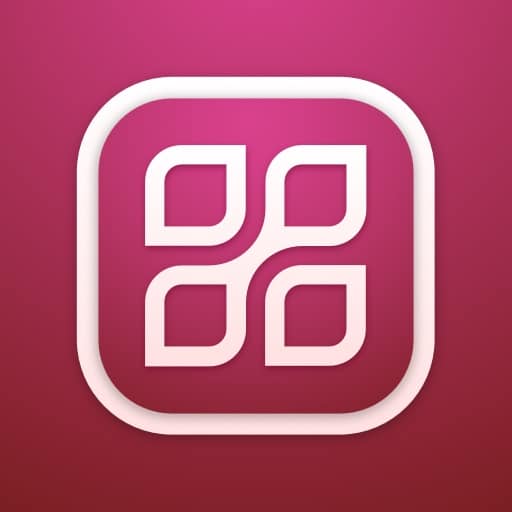 Try Divi Areas Pro today
Sounds interesting? Learn more about Divi Areas Pro and download your copy now!
Many pre-designed layouts. Automated triggers. No coding.

Click here for more details