For any given enterprise, transparency is critical for achieving marketplace success. This is where GDPR steps in, helping companies get on the right track when it comes to personal data management.
Even though it's intended solely for protecting EU residents' data, the GDPR effects are far more reaching, and the penalties are harsh, with up to 20 million euros in fines if your WordPress website isn't compliant with the regulation.
Speaking of WordPress, one does not simply work without a plugin. A GDPR compliance plugin can go a long way in helping you achieve compliance. However, it can't do 100% of the work since each website is unique in how it handles user data.
But still, it will make the entire process much more manageable. So, without further ado, let's review the best WordPress GDPR plugins that you can install today.
GDPR and WordPress: Compliant from the Get-Go
Since its 4.9.6 version, the WordPress core is officially GDPR compliant, adding numerous GDPR improvements in the process such as comments consent, data export and erasing, and privacy policy generator.
By default, WordPress stored users' names and email data on their browsers, making things easier for users who wanted to leave comments on blogs immediately. However, due to GDPR's requirements, WordPress added a comment consent checkbox afterwards.
WordPress also provides you with a built-in privacy policy generator, which offers you guidance of what to add within your privacy policy and how to be transparent towards the users when processing their data.
Top WordPress GDPR Compliance Plugins
As a Divi website owner, you can use the best theme-compatible plugins that collect and process data. However, depending on which plugins you'll use, you must act in line with the GDPR rules to stay compliant.
Now, let's look at some of the best WordPress GDPR plugins that you can install today, as well as their key features that help you meet the GDPR requirements.
1.MonsterInsights
It is one of the best Google Analytics WordPress plugins in the marketplace. MonsterInsights allows you to gauge how your site performs and generate detailed reports on your WordPress dashboard, which can be reviewed immediately.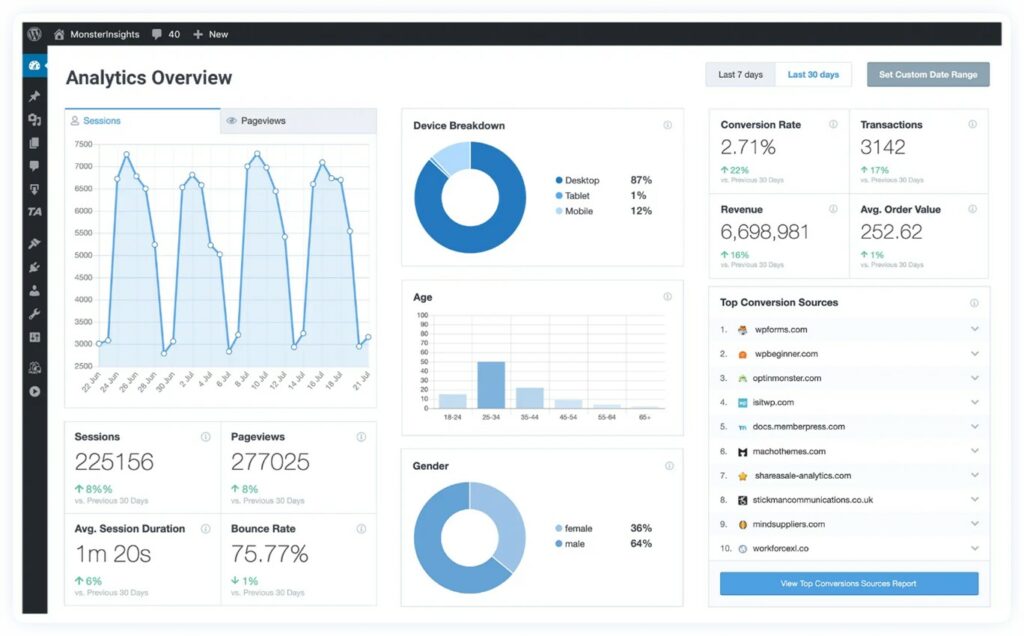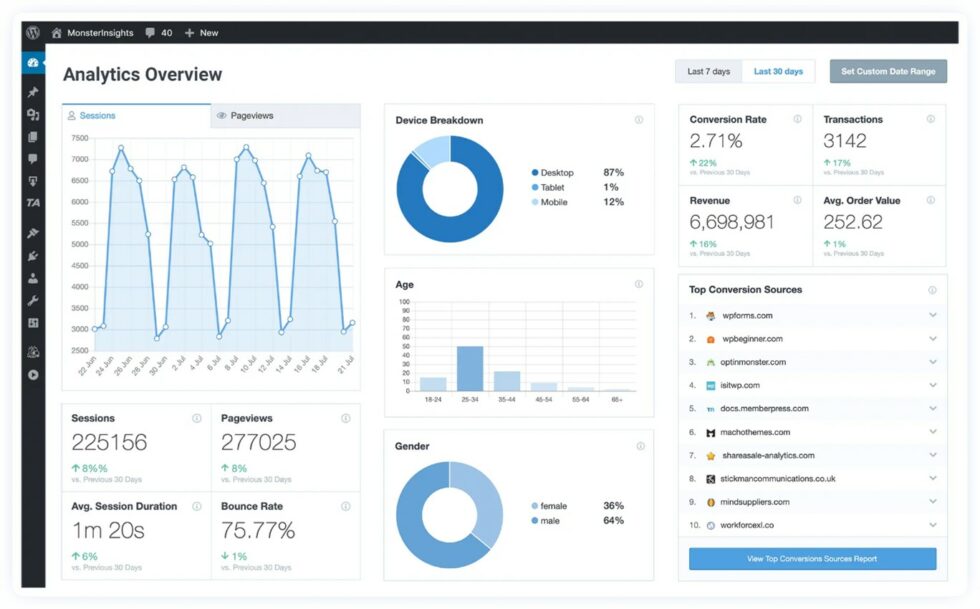 Additionally, MonsterInsights allows you to de-identify IP addresses for Google Analytics in both the free and paid edition of the plugin. Furthermore, the plugin also provides you with an EU-Compliance Addon that disables tracking and reporting features in Google Ads.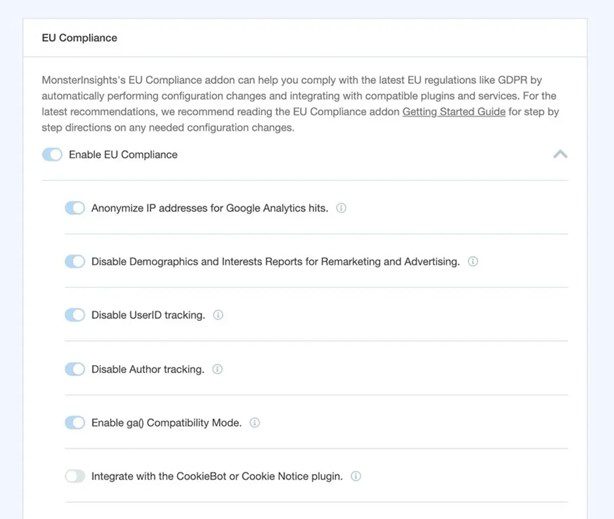 Activating the EU Compliance Addon enables the following:
Anonymizing IP addresses on Google Analytics, eCommerce hits, and form tracking hits
Disabling UserID tracking on Google Analytics, eCommerce, and form tracking hits
Disabling author tracking in the Custom Dimensions addon
Disabling the Demographics and Interests Reports for Remarketing and Advertising tracking on Google Analytics
Integrating with the CookieBot and Cookie Notice plugins without code changes
Allows AMP users to agree on the Google AMP Consent Box before being tracked
If you want to provide users with an option to opt-out of tracking, MonsterInsights offers you ways to achieve that:
When using Cookie Notice or CookieBot, you can use their built-in options.
If you don't use Cookie Notice or CookieBot, you MonsterInsights's Opt-Out link integrations or create an opt-out link with the plugin.
MonsterInsights is also compatible with Google Analytics's Chrome browser opt-out extension and their built-in cookie opt-out system.
Anonymizing IP addresses
Geolocation properties
Disabling remarketing and ad reports
Disabling user's ID and tracking
Customizable opt-out links
Integrating cookie plugins
AMP compatibility
CCPA compliance
Opt-Out link for Google Analytics tracking
There's a free version of MonsterInsights, and the paid versions of the plugin start from $199 per year.
2. Cookiebot
Cookiebot is a WordPress GDPR plugin that helps you get cookie consent from users for various categories.
Under GDPR, the consent for cookies must be 'freely given, specific, and informed' by all users, which is why Cookiebot is perfect if you want to let users choose which cookies they want to stay active on their browsers.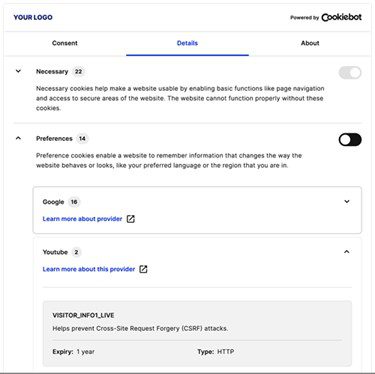 According to GDPR, on Cookiebot CMP, cookies fall under four main categories:
Necessary cookies: Cookies that must be active at all times for your website to function properly, which can also be white-listed for exemption from the GDPR cookie consent.
Preference cookies: Cookies that remember users' preferences, such as languages and currencies.
Statistics cookies: Cookies from third parties such as analytics tools that you integrate on your WordPress website.
Marketing cookies: Cookies that come from third-party services for advertising and remarketing purposes.
With Cookiebot's deep-scanning technology, each website cookie gets detected. Then, all the technical details about the cookies are explained to the users in a simple cookie declaration that provides the required GDPR cookie compliance information.
The plugin also allows you to whitelist necessary cookies that are critical for your website to work correctly. You also have the option to hide the cookie consent notification depending on the user's location.
A customizable consent banner that handles users' consents and provides users with the option to opt out of a given cookie category, as requested by the GDPR, CCPA, and similar regulations.
An automatically generated cookie policy with description of its purpose and cookie categorization.
A 'Don't Sell My Personal Information' link on the cookie declaration which allows users to opt out of having their data sold to third parties, as required by the CCPA.
Regular monthly website scanning, detecting every cookie and tracking activity on your website on your site, as well as the duration and where the data is transferred to.
Automatic cookie blocking since the user lands on the website and until the consent is obtained, enabling GDPR compliance in the process.
Allowing users to alter or withdraw their consent.
Multilingual consent banner and cookie notice support.
Currently, Cookiebot is free for one website that has up to 100 subpages, and the paid versions start from $10 per month.
3. WP AutoTerms
If you need to create legal pages for different purposes, then the WP AutoTerms is the plugin for your Divi website. It allows you to generate legal pages swiftly, staying GDPR compliant in the process.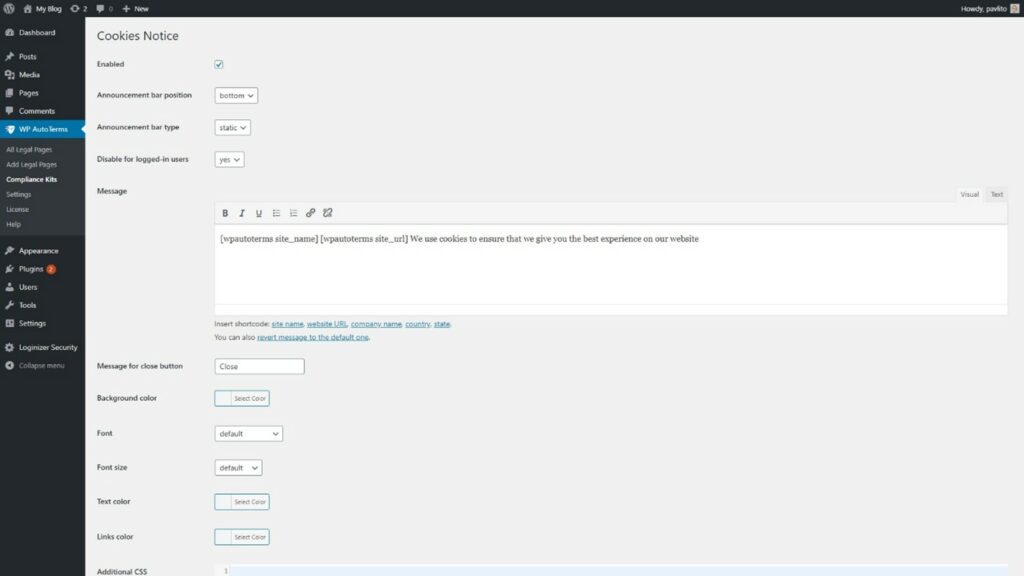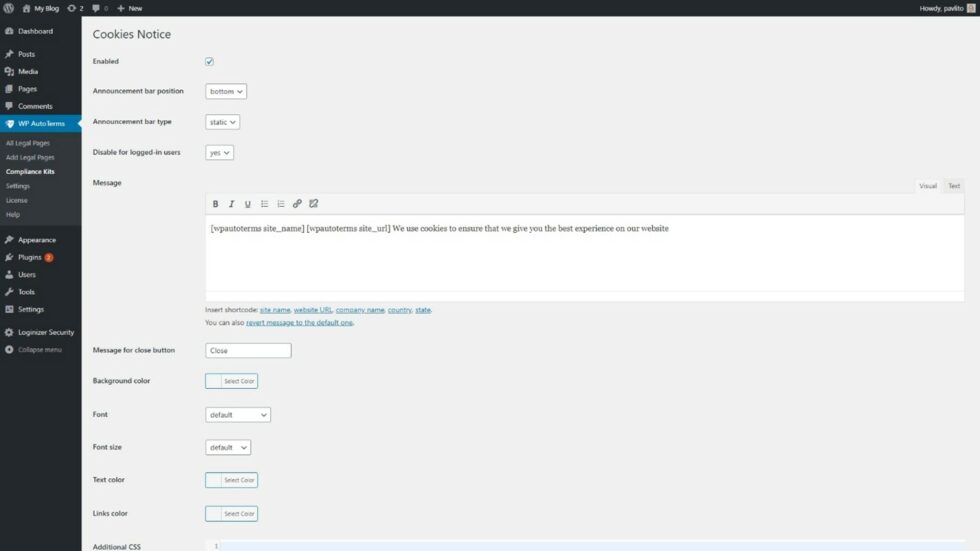 Moreover, WP AutoTerms allows you to customize your legal pages through fonts, colors, and CSS.
Privacy Policy Generator: WP AutoTerms provides a Privacy Policy Generator with GDPR & CCPA terminology, and Terms and Conditions Generator.
Compliance Kits: WP AutoTerms offers multiple Compliance Kits and features that allow you to comply with the different requirements and GDPR-compliance plugins.
The plugin's free version allows you to generate a clearer privacy policy for your website. For advanced legal pages, paid versions start from $39 for up to 2 websites and above.
4. WP Activity Log
Personal data security is one of the main aspects of the GDPR terms, which is why WP Activity Log comes in handy, simply because it makes your WordPress website compliant by tracking what the logged-in users do on your site. The plugin logs all changes that logged in WordPress users do on your website.
This is excellent since most of the GDPR plugins don't allow logging data access. If there's a personal data breach, you'll immediately uncover if the breach is accidental or there's a culprit!
The following is a summary of the changes that WP Activity Log tracks:
Post, Page and Custom Post Type changes such as status, content, title, URL, custom fields and other metadata alterations.
Tags and Categories changes such as creating, deleting, or altering them, and adding or removing tags and categories from posts.
Widgets and Menus changes such as creating, altering or erasing menus.
User changes such as user registration, deleting a user, adding a user on a multisite network, and password, role, and name & email changes.
User activities such as logins, logouts, as well as terminated sessions.
WordPress core settings changes such as updating, permalinks, installing plugins, default roles, and other site changes.
WordPress database changes such as adding or removing tables via plugins.
WordPress site file changes such as adding new files, or altering and deleting existing ones.
Logging posts, tags, and comments changes
Tracking WooCommerce activity
Tracking activity from logged-in users
Logging hacking attempts
Tracking plugin and theme upgrades
Tracking database updates
On WordPress.org, you can find the free version of the plugin. The paid version lets you see real-time activity and create email notifications.
Wrapping Up
And there you have it, now you know everything about the best GDPR WordPress plugins that you can install today. Keep in mind that plugins alone don't ensure 100$ GDPR compliance. If you're not fully certain about any of the plugins above and how they'll affect the compliance of your WordPress website, don't forget to consult a legal counsel.
The GDPR will continue to improve website requirements and implementing them doesn't have to be a hassle. Luckily, the plugins make the path towards cookie consent and compliance much more effortless.