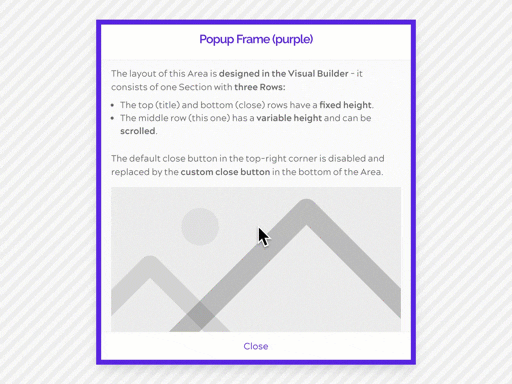 This template adds a custom frame for your Popups and has a static title, a custom close button, and a scrollable content section. It is a great showcase on how to create advanced Area layouts.
How to use this template
Import the template into a new Divi Area on your website.
Remove the sample contents from the middle row, insert your content.
If you want, change the border-width or -color by editing the Border settings of the section.
Get unlimited access to the Layout Library with any Divi Areas Pro license. And much more...
Priority Support
With a Pro-License you have access to our world-class priority support, via LiveChat or E-Mail.
GPL License
Our licenses are fully GPL compatible. A single license can be used on as many websites as you like.
Active Development
We are constantly adding new features and constantly update our plugin, documentation, and tutorials.
30-day money-back guarantee
Leading technology, top compatibility
Unlimited sites, unlimited Areas
Clean, lightweight, high-perfoemance
Powerful JS API
Frequent Updates